RuPaul's Drag Race UK- Season 2, Episode 6 Recap
RuPaul's Drag Race UK- Episode 6 Recap
Two words: Snatch Game. Forget the post-elimination drama and cattiness. Pay the small talk no attention. This episode is all about the main event.
No mini challenge this week — instead, Ru spent the time chatting to the queens in turn (skipping over Tayce and Sister for some reason) about their planned impersonations. More than one of them got very emotional, breaking down in tears: A'Whora, for instance, has surprisingly severe self-confidence issues, struggling with authenticity. Ru's advice to the queens here was very odd at times, sounding like motivational speaker Mad Libs. Tensions and emotions were high, clearly, as they always seem to be for Snatch Game, the most anticipated week of any Drag Race season.
For Drag Race newbies, Snatch Game — a staple of the show since its second American season — is a parody of the US panel game show, Match Game, where each of the queens has to impersonate a celebrity. They then half-heartedly try to match answers with the contestants, who were, this time round, Michelle Visage and the GC herself, Gemma Collins. Last season's Snatch Game champions — Baga Chipz as Margaret Thatcher and reigning champion The Vivienne as Donald Trump — made an unnecessary and stilted cameo appearance to ask one of the questions, which were as unpredictable and filthy as usual. "You're watching the BBC," Ru quipped to camera, after a particularly sordid innuendo.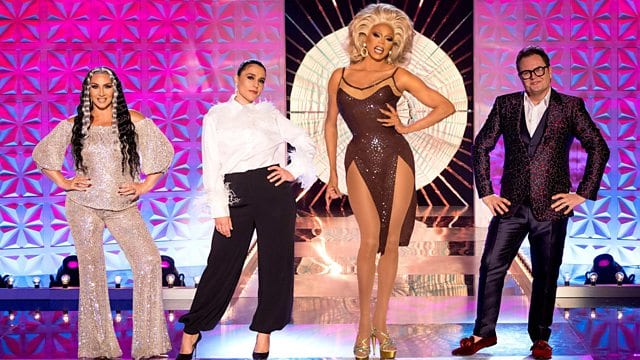 Why is it still called Snatch Game on Drag Race UK it should be called Blankety Wank or something

— Monopoly Phonic (@MonopolyPhonic) February 18, 2021
Tia tried Mel B and while she looked the part, her jokes grew tired: more than half made reference to Eddie Murphy. Where were the Spice Girls gags? Sister gave us TV psychic Sally Morgan — a thoroughly competent job, with a few good laughs, although a more obscure celebrity makes it harder to include subtle or specific references. 
Lawrence, a firm favourite given her previous comedy win, was a big disappointment. She chose Miriam Margolyes — a great choice! — but her impression was quite generic, she had no repartee with Ru, and fell back on rather lazy lesbian jokes. Ellie opted for Vicky Pollard, one of Matt Lucas's characters from Little Britain, a strange choice given the show's dated and thoroughly problematic comedy. It was a good impression — a smart choice, given the character's parodic and over the top nature anyway — but I wanted more. We didn't even get, "Yeah but no but yeah but no but…" 
A'Whora made the brave gambit with Louie Spence: we don't usually get many male celebrities impersonated and they are often judged more closely and more harshly as a result. She looked the part — she was almost unrecognisable, actually — and had his mannerisms down, really disappearing into the part, but punchlines were slightly lacking. She was safe in my book, though, if not one of the better performers. 
The stars of the show were undoubtedly Tayce and Bimini — my two favourite queens overall anyway, to be completely honest, but I think I'm biased as an East Londoner. Tayce gave us Jane Turner as Kath Day-Knight from Kath & Kim, and she utterly embodied the part. She clearly knew the show inside and out and, even as someone who hasn't seen Kath & Kim, she was utterly charming and hilarious. She looked positively atrocious — and I mean that in the best possible way — in a shell suit and perm, with bright green eyeshadow. Her accent, although it slipped a few times, was surprisingly good — I'd been expecting Tayce to go full Welsh this week. 
But Bimini Bon Boulash stole the show — which I did not at all suspect, going into this week — as Katie Price. Her look was on point, her impression — right down to specific, peculiar pronunciation and the Price pout — was spot on, and everything she said was hilarious. I've rarely seen Ru and Michelle laugh so much during a Drag Race challenge. Her entirely nonsensical yet completely convincing line, "The nipples are the eyes of the face," had me howling.
Overall, it was a strong Snatch Game; no one was truly terrible, although a few queens faltered badly, particularly Tia and Lawrence, and they knew it. 
The runway theme was a strange one: PreHERstoric. Most of the girls gave us cavewoman chic: A'Whora had a 3D-printed skeleton corset, inspired by Iris van Herpen, which was gorgeous, elegant, although looked quite stiff, and her matching face piece obscured lots of her gorgeous makeup. Lawrence, Sister and Ellie gave us fun but slightly trite takes on the theme, each combining animal skins and bones in different ways, adding a touch of personal flare. None were bad, but none were radical, either. Tayce's take was more original, giving voodoo influences, a darker and more chaotic outfit, with astonishing detailing and an incredible wig. (Turns out the look was actually made by her friend and now housemate, A'Whora.)
The most disappointing was Tia, who walked in a pterodactyl look, essentially a winged dress with a papier maché pterodactyl headpiece that looked positively amateur. It was more form fitting than many of her previous runway offerings but still felt lacking — it wasn't awful, but a few tweaks and a little polishing would have improved it immensely.
Again, Bimini stole the show. Her entirely original and off the wall interpretation of the theme was to walk as a bacterium: Bimini Bon Bacteria, a single-celled whoreganism as she put it on Instagram. It was thoroughly editorial, from the wig to shoes, with stunning, careful and creative makeup. The judges didn't get it immediately, but once it was explained, they seemed to love the originality of Bimini's interpretation of the theme that was executed with undeniable panache. And, rightfully, Bimini won the week and her first solo RuPeter badge. 
Tia and Lawrence were understandably the bottom two. I was entirely unsure why they gave A'Whora feedback when she seemed so safe, I couldn't work out if it was constructive or cruel. I have to admit, I didn't know the lip sync song — 'Touch Me (All Night Long)' by Cathy Dennis — and it seemed like a classic case of Ru picking one of her favourite songs, instead of a pop banger. (Given the gorgeous Drag Race superman Jessie Ware was a guest judge, it seemed strange not to pick 'What's Your Pleasure?') It was a lacklustre lip sync, as the song was up tempo but both queens had severely limited movement in their runway dresses. Lawrence was better than I expected, though, as she admits to not being a big performer, and was deemed safe. I'd say it was a close call, but you can't ignore that it was Tia's third time in the bottom two, where Lawrence had won the three previous weeks. I'm sad to see Tia go, she really grew on me and provided some of the funniest lines and talking head moments. 
Next week looks like another sewing challenge, with the queens tasked with making looks from lockdown essentials — a novel take on a standard part of the Drag Race repertoire. We're past the halfway mark now and approaching the home stretch, it's getting tense…