GTA 6 Developers have expressed disappointment upon discovering massive leak of early gameplay footage
The gameplay from GTA 6, which some fans had previously believed to be false, was confirmed to be authentic and triggered a response from Rockstar Games. In their statement, the developers expressed it had suffered a network intrusion, where a hacker breached its systems and downloaded confidential information, including the infamously leaked footage. The game has been in production since 2014.
The alleged hacker dropped 90 videos of unreleased gameplay footage to an online forum and has threatened to leak more gameplay footage and even the game's source code. Some of the leaked videos are over 20 minutes in length, are apparently set in Vice City and show multiple playable characters, including a woman. Rockstar Games employees were left shocked by the leak.
The hacker goes by the name 'teapotuberhacker' on GTAForums. It seems 'teapotuberhacker' wants to blackmail Rockstar as they stated, "I am looking to negotiate a deal." This deal is assumed to prevent the release of more sensitive data. The hacker also claimed to be behind a data breach in Uber's internal systems, though the statement remains unverified so far. 
Rockstar did all it could to take down the leaked videos. Still, as happens with leaked footage on the Internet, people are already making video theories, TikToks and memes throughout all digital venues.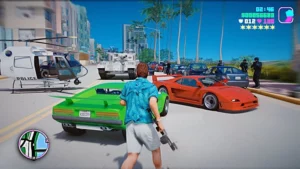 "We are extremely disappointed to have any details of our next game shared with you all in this way." Expressed the studio following the leak. Rockstar games continued, "Our work on the next Grand theft Auto game will continue as planned, and we remain as committed as ever to delivering an experience to you, our players, that truly exceeds your expectations." Fans reacted with support and love for the company.
While the studio didn't share extensive details on the depths of the data breach, they were confident that this would not disrupt the service for its network or games and won't have a long-term effect on the development of their next projects.
Rockstar Games owns Grand Theft Auto, (GTA), one of the most successful video game franchises in the modern history of games. For comparison, GTA 5 was released nearly ten years ago and remains popular today, selling nearly 170 million copies as of August 2022, becoming the best-selling game of the last 10 years. Simply announcing Grand Theft Auto 6 (GTA 6)  being in development was enough to cause Take-Two Interactive's stock to rise.
Take-Two Interactive is Rockstar Games' parent company and owns 2K, their Private Division label to support publishing from independent developers, and another new studio known as Intercept Games.