2022's Best Pop Album Releases So Far
Halfway through the year, and already so many bangers. What's your favourite pop album?
2022 has been a great year for pop. In the 2010s, pop album releases were declining. People were getting tired of generic pop stars being pumped with money from record labels to create monotonous radio-friendly hits. Nowadays, pop music is being redefined, and music's brightest and emerging talents are finding their own unique take on pop music. Here are some of 2022's defining musical moments so far.
Rosalia – MOTAMAMI
MOTAMAMI is a masterpiece. Released in March, the project fuses hip-hop, pop, and a heavy dose of reggaeton. The pop album honours traditional Spanish music by giving it a new lease of life and follows the stellar debut, El Mal Querer, which helped put Rosalia on the map. Some of the highlights of MOTAMAMI appear when Rosalia's piercing vocals shine through. Flamenco sounds add a nostalgic theme, which makes the album feel like an instant classic. This is a one to watch at the 2023 Grammys.
Charli XCX – Crash
Crash is the final album release for Charli under her current record label. Crash feels as though Charli has seized every opportunity and rinsed the label dry. Each song is a banger and has lead single potential. For years now, Charli has been on the fringes of the alternative pop scene, dabbling with hyper pop, and collaborating with some of the most influential artists in music. The album is unapologetic pop at its finest and it deserves huge commercial success. Crash is the product of a pop star at her peak.
Yung Lean – Stardust
Stardust is a mixtape from Swedish 'sad boy' Yung Lean. Lean's music is usually described as hip hop, cloud rap or emo rap but, with this latest release, the 25-year-old is embracing a more pop and dreamy sound. Stardust opens with a somber, Bliss, a collaboration with FKA Twigs. The track samples the melancholic guitar riffs found in Russia's post-punk era. The album is arguably Lean's best work since his debut EP, and the viral Ginseng Strip 2002. Now that Lean has parked – albeit temporarily – his hip hop ventures, the music feels more fitting and natural. Hopefully, the dream pop direction will be around for a bit longer.
Harry Styles – Harrys House
2022 has been Harry's year. Despite having huge successes with his previous album, Fine Line and in One Direction, they year has been the year that Styles became one of the biggest solo artists in the world. Harry's House is an incredibly stylish project that is full of soothing synths and 80's sounding anthems. The album debuted at number 1 on the UK and US album charts and is already one of the biggest selling releases of the year so far – despite it being leaked a month before the release date. The lead single, As it Was, is fast approaching a billion streams on Spotify alone: an incredible feat for a track that has only been out 5 months. Harry's House is a milestone album for an artist who is at the top of their game.
FKA Twigs – Caprisongs
Caprisongs is FKA Twigs' attempt to go mainstream. On this mixtape, Twigs has a huge amount of collaborators – something uncommon in comparison to previous projects. In an interview on a podcast with Louis Theroux, Twigs referenced the album, "It was all via the internet…I have more collaborations and features on this album than I ever had before." The lead single, Tears in the Club features The Weeknd and is produced by the incomparable Arca. Despite the single having the most generic pop title ever known and having the world's biggest musical star as a feature, the track failed to gain traction on radio and streaming platforms. For critics, the mixtape is a disappointment in comparison to the boundary-pushing alternative music that FKA Twigs is well known for. But for pop fans, Caprisongs is an adventurous pop album with some clever R&B flavours.
Florence and the Machine – Dance Fever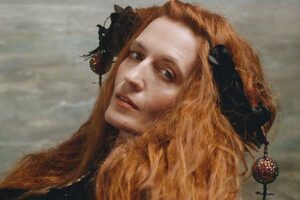 Florence was about to hang up her microphone and have an early retirement until the inspiration for Dance Fever took over. "It was just full alert all the time, there was nothing to tap into. And so as soon as I pressed a note on the piano, I just burst into tears. I didn't have words, I only had grief," said Florence in an interview with Rolling Stones, referencing the cathartic process of songwriting. The album is incredibly personal, touching upon themes of motherhood, mental health and "bodily desires." Even with the hard-hitting lyrical themes, this pop album has a joyous sentiment throughout – and is one of Florence's best musical projects to date.