Five Books to Ease you into Activism
Want to learn what you can do to make the world we live in a better place? These activism books are the perfect starting point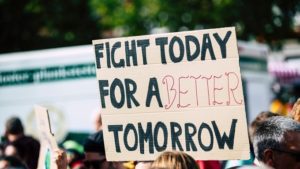 Hope in the Dark by Rebecca Solnit
"Hope in the Dark traces a history of activism and social change over the past five decades […] Solnit conjures a timeless vision of cause and effect that will light our way through the dark, and lead us to profound and effective political engagement." (Blurb)
Whenever I'm feeling a bit down or feeling hopeless, I always return to this book. Solnit leads us on a journey, constantly reminding us that activism has always been around to combat the challenges the world throws at us. We've been doing it for centuries and will continue to do it for many more.
A personal favourite quote from this book is "joy doesn't betray but sustains activism. And when you face a politics that aspires to make you fearful, alienated and isolated, joy is a fine act of insurrection." If that doesn't tell you everything you need to know about this book, then I don't know what will. It's the perfect starting point for anyone wanting to ease their way into activism, or for those looking for a reminder about why they got into activism in the first place.
We Belong to Gaia – James Lovelock
"In We Belong to Gaia, James Lovelock draws on decades of wisdom to lay out the history of our remarkable planet, to show that it is not ours to be exploited – and warns us that it is fighting back." (Blurb)
Lovelock is the father of the Gaia Hypothesis, which sees the Earth as a single self-regulating system that sustains all life. Through decades of extensive research, he has laid out in simple terms how connected we are to the planet and vice versa. The Earth has existed a lot longer than any of us have and sometimes people forget that. This little book is the perfect short read for anyone wanting to learn more about climate change and what can be done to combat it. Lovelock's theory proves that if humans continue to exploit the planet, it will punish us in return.
No One is Too Small to Make a Difference – Greta Thunberg 
I'm sure you've all heard of the climate activist Greta Thunberg. Famous for kickstarting the global school strikes in protest against the adults ignoring global warming signs and putting their children's futures under threat. This is her first book in English, collecting her speeches from climate rallies across Europe. Her work on climate change has earned her a prestigious Prix Liberté, as well as a Nobel Peace Prize nomination.
This tiny pocketbook is suitable for people of all ages. Greta really is paving the way in encouraging young people to stand up and fight for their futures. But, it also wouldn't do harm for adults to read her work and get on board with her mission.
When I dare to be powerful – Audre Lorde
"Written with a 'Black woman's anger' and the precision of a poet, these searing pieces by the ground-breaking writer Audre Lorde are a celebration of female strength and solidarity, and a cry to speak out against those who seek to silence anyone they see as 'other.'" (Blurb)
Audre Lorde's collection of essays varies in theme from the experiences black women face to embracing your own sexuality, this really is a must-read for anyone wanting to engage in intersectional feminism. She writes with such beauty and clarity, scrutinizing what people believe to be true and have been lead to believe about ourselves, and why silence doesn't protect anyone. This book should be taught in all schools up and down the country.
This Changes Everything – Naomi Klein
"The most important book I've read all year – perhaps in a decade…crucially, she leaves the reader with a sense of optimism." (Stephanie Merritt, Observer, Books of the year)
A lengthier book, this is definitely one for those who want a deeper understanding of how the world has ended up in the state it has. Klein offers an articulate and in-depth review of how capitalism has led to climate change, but most fundamentally she provides a toolkit for rearranging thinking patterns and engaging the power people have to challenge what has become the norm. Anyone wanting to broaden their political and climate activism skills should read this book.