Rihanna – "You're still going to get music from me"
Rihanna has reassured fans that, despite announcing her pregnancy last month, they can still expect new music from the 'Umbrella' singer.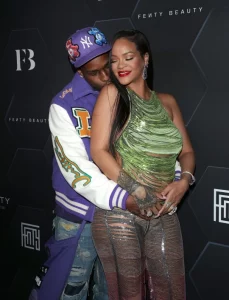 In January, Rihanna and her long-term boyfriend A$AP Rocky revealed they are expecting their first child together. But, while fans were thrilled to hear the news, it sparked questions about her music career.
In 2016, Rihanna dropped her most recent album, 'Anti', and has since been teasing a follow-up record. In December, she even told paparazzi that the project would be coming "soon".
And, despite fans casting doubts as to whether the album would still be released in the near future, Rihanna recently confirmed to Entertainment Tonight that becoming a mother won't stop her career.
The Barbadian singer told Entertainment Tonight, "Well, yes. You're still going to get music from me." Then, when jokingly asked if her next project would be a lullaby, she laughed, "Not a lullaby! My fans would kill me that they waited this long for a lullaby!"
Following 'Anti's' 2016 release, Rihanna has launched multiple businesses, including Fenty Beauty, Fenty Fashion House and Savage X Fenty. In late 2021, Rihanna was even given the National Hero of Barbados honour following Barbados' declaration of independence.
However, now it seems the multi-Grammy Award-winning singer is ready to delve back into music alongside embarking on a new journey of motherhood.