Mariah Carey Takes Over London TfL Intercom
Mariah Carey Takes Over London TfL Intercom
[simple-author-box]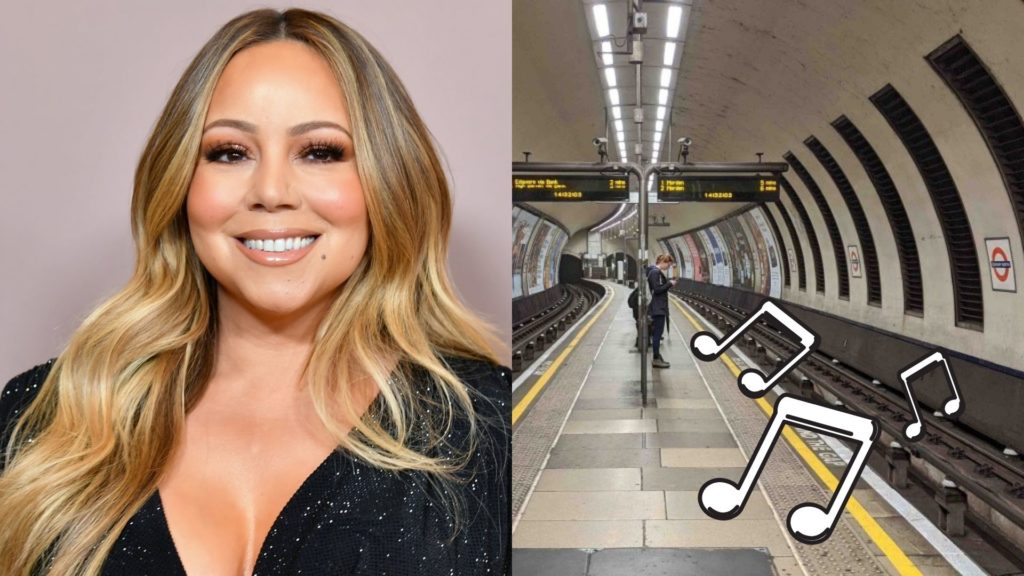 The Christmas season has hit us in a frenzy again this year. The first holiday celebration since the beginning of COVID-19.

But we all know who the most wonderful time of the year belongs, not us, not the kids and no not Santa Claus. Ms Skinny Legend Mariah Carey of course!
Thanks to her 1994 global hit, All I Want For Christmas, we can all expect as soon as November 1st hits, say bye bye to Halloween and hello to Ms Carey!

Mrs Claus could never.

In her latest Christmas campaign, the five time Grammy award winning artist, has collaborated with TFL and Amazon Music to bless the ears of travelling Londoners with announcements in her dulcet tones.

Announcing the news on Twitter this Wednesday, the Queen of Christmas wrote that she had affiliated with Amazon Music to "bring some festive cheer to the London Underground", alongside a teaser clip of what fans should expect during their winter season travels.
UK lambs 🐑🐑 I've teamed up with @AmazonMusicUK to bring some festive cheer to the London Underground. Safe travels!! https://t.co/wrogIAMfXn pic.twitter.com/xiTfdkhaAM

— Mariah Carey (@MariahCarey) December 15, 2021

"Hi darlings, it's Mariah. Make my wish come true and please stand behind the yellow line at all times, proceed with caution, and don't forget to ask Alexa to play 'All I Want for Christmas is You' on Amazon Music," the announcement in the video read.

The Transport for London official account replied to Ms Carey's tweet and said: "The one and only Mariah Carey has been surprising customers with festive announcements on the network! Have you heard her on your travels yet?"
The announcement is reminiscent of her 2018 Amazon and TFL collab outlined on the website of her current record label Sony Music, "Fans can hear the singer's thoughtful and humorous announcements at London Bridge, Waterloo and Stratford stations every day from 18th to 24th December. Londoners can also ask Alexa to play her Christmas hits, as well as the new album, Caution, on Amazon Music".

Clearly the popularity of this stunt was so great it had to be pulled again this year.

London commuters will be in for a treat during their rush hour trip, as TFL are yet to announce which stations will be broadcasting the Christmas singers five octave vocals.

Since Mariah, is worth an ­estimated $320 million from raking in almost 20 years of royalties from her hit single, some may consider the collaboration a lucrative spend on Transport for London's behalf. However, Julie Dixon, the head of customer information, design and partnerships at Transport for London told Fox Business that partnerships like this allow the city to rely less on charging commuters fares.

"This popular and now annual promotion is a great example of how enduring brand collaborations can be with TfL and shows a different way to use our stations in a creative and engaging way to connect with tens of thousands of people." – Julie Dixon, head of design and customer partnerships at Transport for London.

This celebrity TFL collaboration follows a new dedication to commercial partnerships. This includes another collaboration with Amazon with the 48-hour renaming of Piccadilly Circus station to promote the launch of Picard, a new Amazon Prime series.

This TFL announcement simultaneously falls in line with the US equivalent of Carey's lucrative Christmas collaborations. Again using Twitter as a social media marketing medium, McDonald's offered customers free Big Macs if Mariah Carey retweeted their post.
The "liked by 10k plus" tweet read "if @mariahcarey retweets this everyone gets a free Big Mac," resulting in a social media buzz (and a special one-day-only deal) when @MariahCarey did. This was followed by the fast-food chain officially teaming up with Ms Mariah for 12 days of free food starting Monday continuing through to Christmas Eve. Carey is the second female to be featured in a McDonald's U.S. celebrity campaign.
This holiday season at @McDonalds, you're not getting the Mariah meal… you're getting a whole menu! Introducing The Mariah Menu: get free daily deals w/ $1 min purchase Dec. 13 to 24, only in the app dahhling! #ad pic.twitter.com/Wkz90NvMWy

— Mariah Carey (@MariahCarey) November 10, 2021
According to journals and reports Mariah rakes in almost $2 million every season, righteously earning the name "Queen of Christmas" under her belt. Stats on the monetary aspects of this deal have not been released yet but I can imagine the numbers will be a stinker.