Radam: Making Queerstory
Making Queerstory: Radam Ridwan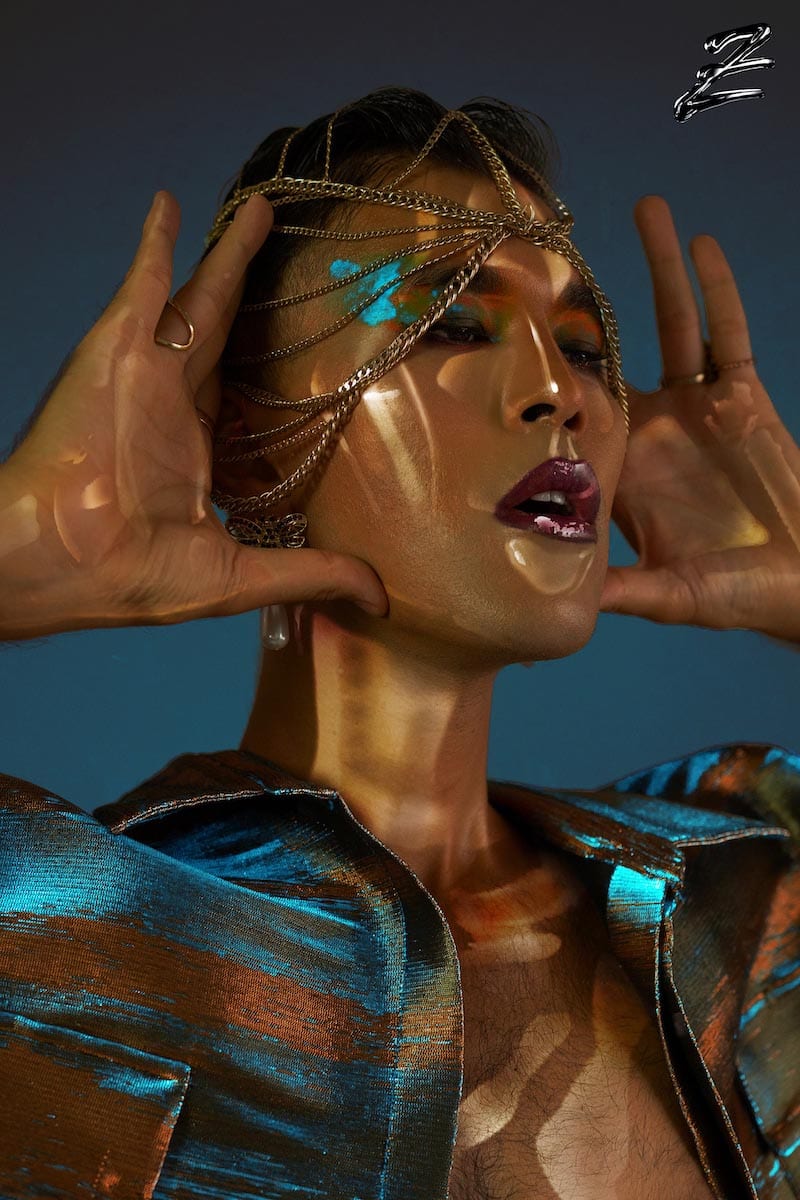 Original photo by James O'Doherty, Make-Up by Shamirah Sairally // Chapter Z Portrait by David Oldenburg
Shirt by Edward Crutchley
Radam Ridwan is a 26-year-old queer non-binary writer, creator, & poser from Indonesian & Australian origins, who has found themselves in the heart of East London. They're passionate about deep purple eyeshadow, mie goreng (not the 2-minute version), & QTIPOC empowerment. They're a work-in-progress that will never be quite finished, & that's okay.
[nectar_single_testimonial testimonial_style="bold" color="Default" quote="… an externally-created version of yourself… is an imagined concept used to keep you in a single place, in a single expression, in a single range of movement. The only natural thing in our world is change, so learn to embrace the swirling tide."]
WHAT WILL WE LIKELY KNOW YOU FOR? 
You might know me from a number of places, because I'll basically do anything that you'll pay me for. I write poetry & personal essays, I create comedy & educational video content, I model for shoots & runway, & I perform in the night times (but that's more a lifestyle choice). Permeating my work are the messages: difference is sexy, unlearn everything, anger has its place, & none of us are free until we are all free. 
HOW LONG HAVE YOU BEEN WORKING IN THIS AREA / INDUSTRY? 
Writing has always been the passion deep within, something I've done since forever for the sheer release. I started posting my 'rants' to Instagram accompanied by images of me around 3 years ago. They kinda took off. So for the last few years I've been continuing to write, create, & pose—only now I get paid for it.
WHAT INSPIRED YOU TO GO INTO THIS AREA OF WORK? 
Growing up, I was inspired by anyone who had the bravery to challenge traditional conceptions (or misconceptions) of gender, sexuality, race, ethnicity, & ability—any systemic component that is set up so that some people succeed & others fail. Through these people I learnt that just as rules are made to be broken, expectations are made to be unexpected. I now see something the world tells me I cannot do as a challenge to overcome. I wake up every day & work to prove to myself & to the world that someone like me can do fucking anything.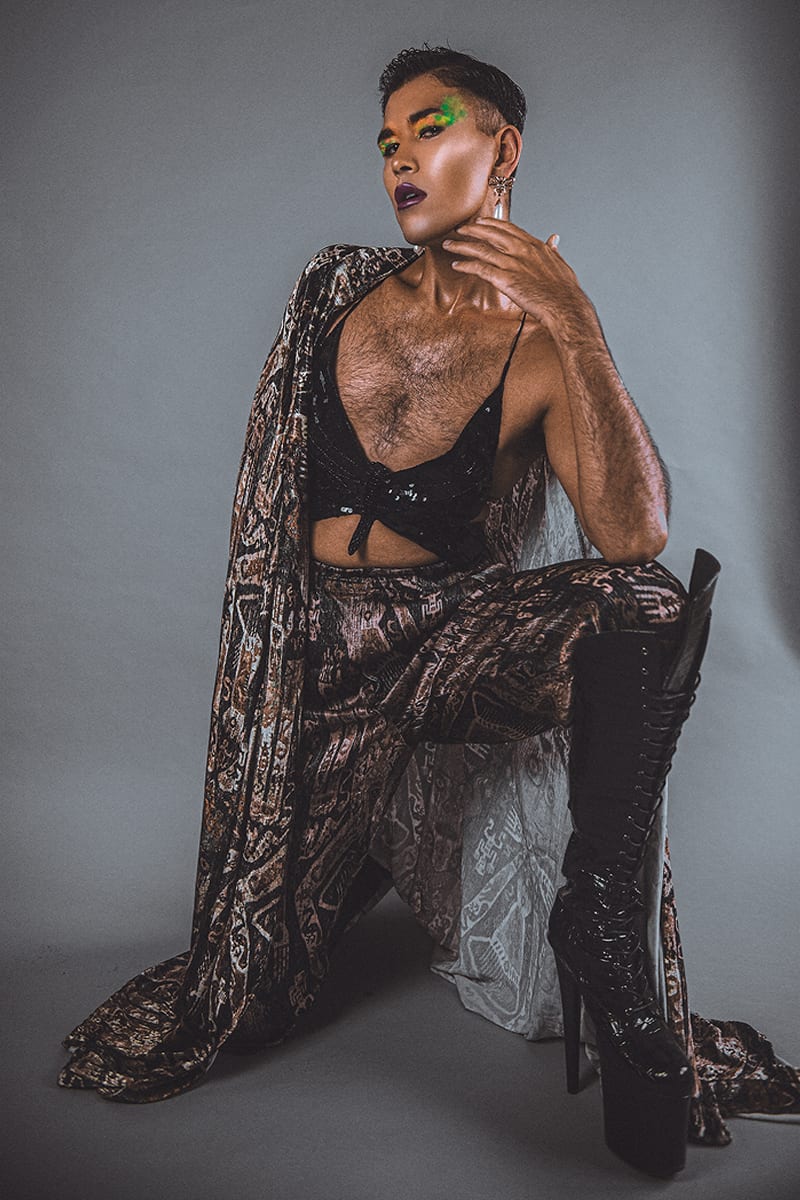 Photo by James O'Doherty, Make-Up by Shamirah Sairally
Cape and Trousers by Edward Crutchley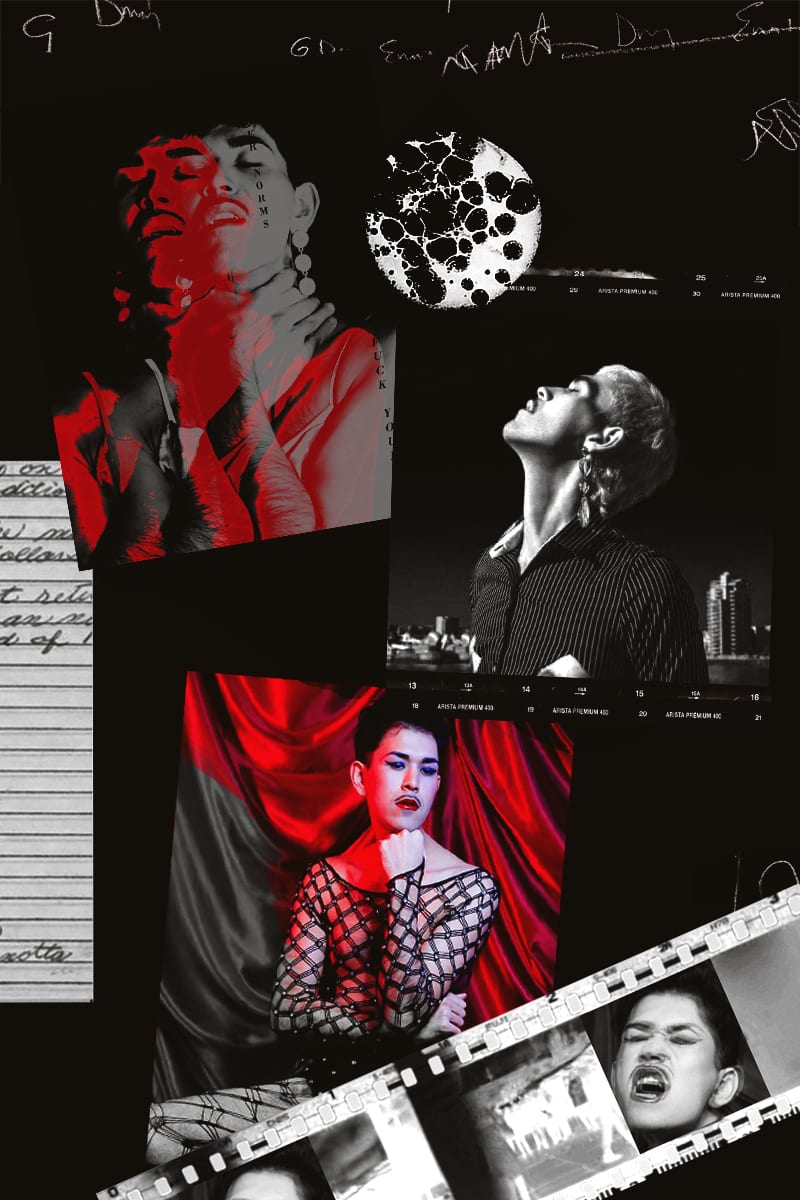 TELL US SOMETHING WE MAY NOT KNOW ABOUT YOU (CAUSES YOU ALSO SUPPORT / WORK FOR / WITH)? 
I spoke at the first ever London Trans+ Pride in 2019. It was the first time I'd spoken in front of a crowd of that scale. I stood up on a park bench with 6-inch heels, freaking out because of a) the height & b) the catastrophising voice in my head saying "why would anyone want to listen to you????" I fucked up the microphone so half the crowd couldn't even hear me. But the ones in the front row said I was pretty good. We fuck it up, we move on. The second ever London Trans+ Pride will be in September this year! Follow @londontranspride for all the details. 
WE'VE ALL HAD DIFFERENT EXPERIENCES OF LOCKDOWN. HOW HAVE YOU BEEN THROUGH THESE CRAZY TIMES? 
What a wild fucking time! I can't stress enough that there is no right or wrong way to emotionally handle a global pandemic. But something that I found cathartic was the creation of my Lockdown Lookbook. This project began out of necessity, to create something during a period of stifled expression. Quickly, it transformed into a photographic catalogue of 50 different fashion looks for each of the first 50 days of lockdown, originally published daily on Instagram.

On some days, outfits were put together to match moods. On others, it was simply to feed what sometimes felt like a monster of my own creation. The piece lives as a representation of my unique way of surviving during an unprecedented moment in history. A testament to getting out of bed when there's nothing to go out for, to showing off when there's no one to show, & to the power of fashion in the creation & re-creation of oneself.
WHO / WHAT INSPIRES YOU IN YOUR WORK NOW? 
I decided to turn my passion into full-time work 2 years ago when I moved to London (from Melbourne). A bigger, more tumultuous playground brought challenges I'd never come across before. It also exposed me to community of people that I otherwise may never have been able to meet—& learn from. I thank spaces such as Pxssy Palace & UK Black Pride for introducing me to dazzling & imaginative QTIPOC that continue to inspire my work, & keep the fire burning. 
WHERE CAN WE FIND YOUR WORK? 
Follow me @radamridwan on all good social media sites. Check out my IGTV video on using they/them pronouns before you refer to me. Scroll through my self-love shrine. Book me via my agency Wimp.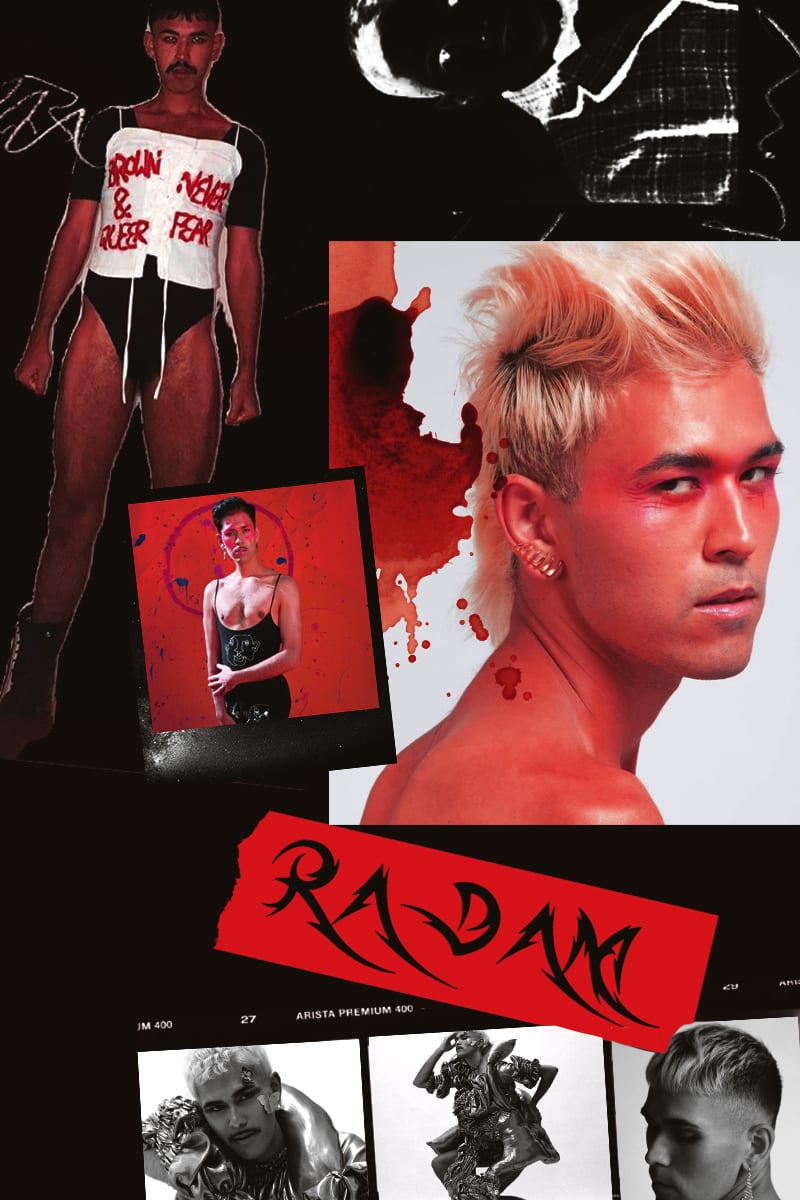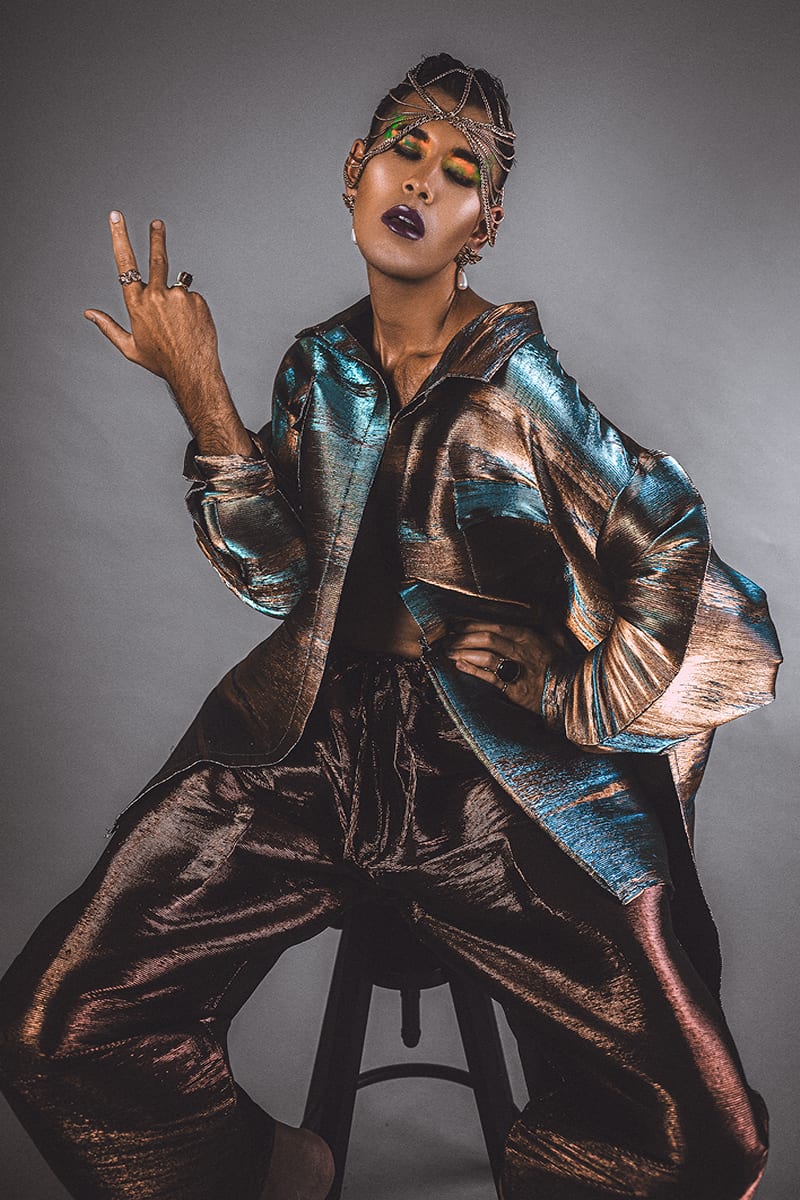 Photo by James O'Doherty, Make-Up by Shamirah Sairally
Shirt and trousers by Edward Crutchley
WHAT ADVICE WOULD YOU GIVE TO SOMEONE LOOKING TO GO INTO THE SAME / SIMILAR AREAS OF WORK AS YOU? 
Try not to be weighed down by the idea that you must 'be yourself'. Well, at least an externally-created version of yourself. This is an imagined concept used to keep you in a single place, in a single expression, in a single range of movement. The only natural thing in our world is change, so learn to embrace the swirling tide. 
IS THERE ANYTHING EXCITING THAT YOU'VE GOT COMING UP, THAT WE SHOULD BE LOOKING OUT FOR? 
I shot an editorial for King Kong Magazine recently, & I am working on a follow up to the Lockdown Lookbook. I won't reveal too much but the book will center the exploration of moments beyond the binary through a fashion photographic lens. Stay tuned, folks.
WHAT ARE YOUR HOPES FOR THE REST OF THE YEAR (LIST UP TO 3)?
The world leaves this crisis a kinder place 

Black trans women are given the love they deserve

I don't forget to drink water, eat fruit, & breathe