Does anyone fancy a dip?
Since the COVID-19 pandemic hit in 2020, Brits have had to become accustomed to stay-cations and making the most of the outdoor spaces their towns and cities have to offer. And, in that, the London lidos have been given a new life. 
It seems, since people have been forced to reduce their travel and outdoor activities resumed, people have discovered they can have just as much fun lounging by the lido as they can on the beaches of Spain – who'd have thought? 
But, no one found more love for these outdoor pools than Jessica Walker and Nicola Foster, the Lido Ladies. 
A family tragedy left Jessica suffering from chronic anxiety until she found an oasis of calm in the form of her local Lido. After years away, she returned to the pool and, what started as a quick dip, became almost a daily meditation. Nicola was a competitive swimmer in her youth but, after behind a corporate desk, her joints began to creak. Following some encouragement and persuasion from Jessica, Nicola got back into the water and as the Lido warmed up, so did she. The pair haven't looked back since. 
And, while the Lido Ladies are, at the crux of it, just enjoying the fun and relaxation lidos can provide, they also offer a more meaningful message, "We have a passion for life, lidos, swimming and having fun. We want to continue to inspire others, especially women of our age, to move more, embrace themselves and reap the benefits of a quiet moment in a busy world. Let us take you on an adventure and a dip in an outdoor pool. You'll be surprised at what you discover as you experience the romance of the La Dolce Vita era and the joy of British waters!"
So, as the UK summer temperatures rise, Chapter Z sat down with Jessica and Nicola to find out what really makes the Lido Ladies tick. 

In Conversation: The Lido Ladies
Hi Jessica and Nicola, great to speak with you both and thanks for your time! Tell me what the foundations of the Lido Ladies were built on. Why do you do what you do?
Nicola: It was built on a love of swimming. We head to the pool every day at 6 am without fail. 
Jessica: It's a daily prayer that helps me manage my anxiety and stress
Nicola: It helps me fit into my clothes and keeps me mobile!
Where's your favourite place to take a swim?
Charlton Lido, it's our 'home'.
How/why do you think swimming is good for mental health?
It's like a meditation, the cool calm of the water, the sound and the rhythm of the strokes; it gels the mind, body and soul as one.
What positive changes to your overall health have you personally noticed since you started swimming again?
We are very much more toned and a lot stronger. But, what we notice most is our energy levels – we are full of beans!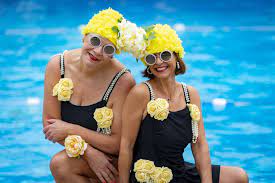 Why do you think once women hit their late forties and fifties that they become reluctant to engage in activities such as swimming and visiting their local lido?
I think there is a definite reluctance to put on a swimsuit in public. So many women, especially those approaching menopause,, start to have poor body image and lack self-confidence.  

Thinking about how women see themselves/limit themselves once they reach a particular age, what do you think is the most important thing we can do to rewrite the rhetoric for women and show them there's no age cap on beauty or fabulousness?
 I think it's all about confidence and embracing each decade with grace and positivity. Women are beautiful when they are in touch with who they are and recognise their self-worth.
Let's talk about the hats and outfits – they're amazing! Where do you get them – who makes them?
They were inspired by my Italian aunty who wore them on the beach in Italy when I was a child. She was incredibly glamorous and left a lasting impression on me. We make them and I am always on the hunt for flowers and trims. It's so much fun.
And finally, what's next for the Lido Ladies, do you have any big plans to help spread your message far and wide?
We would love to make a tv show, travel to as many lidos as possible, pop our heads into the changing rooms and chat to fellow swimmers. We want to share our passion and stories and investigate the provenance of these lidos, the history, fashions and passion around them.
And, finally, we would love to spread our message to as many women as possible, "start to love yourself, put on a swimsuit and jump in – the water's lovely."