The Trans Handy Ma'am and How She Became an Internet Sensation
The Wisconsin maintenance worker known as 'Stardust' began posting on the social media platform TikTok in 2020 and became The Trans Handy Ma'am sensation
She began posting to promote her burlesque show, but it was her DIY and maintenance tips that turned her into an internet sensation.  And, one of her first viral videos saw her giving a helping hand to a fellow TikTok user confused about how to use a ratchet strap
Over the next year, Stardust became well-known for her infectious laugh and friendly approach to home repair, saving viewers from hours of fruitless searching on Google. 
Want to know how to get an anchor out of the wall without kissing your rent deposit goodbye? The Trans Handy Ma'am has a video for that. Need to know the uses of different types of plungers? How a simple magnet can be used to find wall studs?
Recently, she shared a now-viral security hack for renters fearful that someone could enter their house without permission by using a master key. She even reached out to the user who asked for help and walked her through how to install a potentially life-saving device so that she would feel safe in her home.  And, among her many DIY tips, Stardust talks candidly about her trans identity to her over 1.7m followers. It's something she's had to grow into, as many people her age have a "very different concept of what queerdom means to us" because it was "almost an unspoken topic" growing up.
As a result, she says, a generation grew up internalising that being trans wasn't an identity but "almost a curse". "We can sit in the comfort of our own home – away from mom and dad who might not necessarily like our exploration – and we're securely underneath the covers looking at our phone and finding a world of representation, different ideology, different lifestyles that we could never have done 15-20 years ago."
Stardust says it's "both a blessing and to some extent a curse" that "we're creating a world here in TikTok" where people can explore – but "just outside the door, mom and dad are still disapproving". 
The Trans Handy Ma'am has been forced to confront hatred on TikTok, speaking out against vitriol directed at herself but also the trans community at large. She describes it as a platform that allows people to "run free with ideology and exploration", which can lead down a "very harmful path". She believes the trolls are oftentimes people on the internet who are bored, "trying to look for something they don't have in their life" and are "lashing out constantly".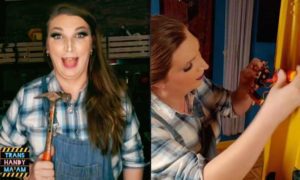 So, she says, it's important to "contextualise what they are" so "we can help and educate that person who made that comment". However, she says, "I also think it's very important to understand that's not our job as a marginalised person, and that our allies in all shapes, ways or forms should be the ones having these discussions."
Despite the hatred, Mercury Stardust says that so much of her life is filled with joy and happiness. And, she passes this on to her audience. "Sometimes I just come online to laugh and say 'here's a chicken nugget' before I run into the sunset. I think it's really good for people to see trans people be funny and multi-dimensional because that opens up a connection. If I'm open and willing enough to be myself in public, it will be a little bit better for the next generation. And if they do the same, it will be even better for the next generation after that."
Stardust is indeed trying to help future generations of LGBT+ youth be able to live their lives fully and happily. She's taking part in a 24-hour fundraising campaign on Friday (25 March), aiming to raise over £18,200 for Plume, a gender-affirming care provider in the US. 
Already, The Trans Handy Ma'am has been able to raise nearly $5,000 for Plume's annual HRT Access Fund, which provides annual grants to trans people who want to use hormones as part of their transition. 
The reality is that the trans elders, "who came before us" and "who are often not here", would "love to be in the position we are right now", she says. So it's important to "honour them" and "pay tribute to them by living our lives openly and lovingly". 
"Because if we don't, in a lot of ways, we're allowing their lives to be forgotten, and their lives are what allow us to live in joy right now," Stardust says. "I appreciate that all the time."