Amazon to Ban Words Like 'Union' and 'Restroom' on New Chat App 
The Pilot Programme is Set to Launch This Month
Amazon reportedly has plans to release an internal messaging app for its workers that would automatically flag employee posts and block a variety of keywords and terms surrounding working conditions, employee grievances and unions. According to company documents seen by The Intercept, words such as 'union,' 'pay rise,' 'slave labour,' 'living wage,' 'diversity,' 'injustice' and even 'restrooms' would be flagged by the app.
Set to be released as a pilot program at the end of April, the app was first discussed by high-level Amazon executives in November 2021 as part of a wider plan to "reduce employee attrition by fostering happiness and productivity among workers," said David Clarke, Amazon's Head of Worldwide Consumer Business. The app, which would operate as an employee-only social media platform, would allow users to post 'Shout-Outs' to celebrate fellow employees' performance. Employees would also receive stars and badges for good performance. 
Amazon associates have come forward to say that it's not yet been decided if all the listed words would be blocked by the app, but that the app's auto-flagging mechanism would be implemented to prevent users from sending inappropriate messages, to "fight the bad side of social media" and ensure the platform provided a positive experience for its users. 
"If it does launch at some point down the road, there are no plans for many of the words called out to be screened. The only kinds of words that may be screened are ones that are offensive or harassing, which is intended to protect our team," said Amazon spokesperson, Barbara M. Agrait.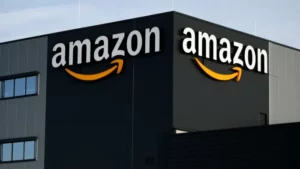 Amazon has come under serious fire for its alleged poor treatment of employees. Some have even speculated that the banning of the word 'restroom' is due to reports of Amazon employees being unable to use the bathroom and instead urinating in plastic bottles to meet tough daily quotas. 
The company has also been notoriously anti-union, aggressively fighting the formation of employee unions in both the United States and abroad. On April 1st, workers at an Amazon warehouse in Staten Island, New York, made history by winning the battle to form the first Amazon union in the United States. 
This was a major win for workers and a huge defeat for the technology giant. Union organisers have reported that fellow employees at over 50 different Amazon warehouse locations have approached them for advice regarding the formation of their own unions. 
Amazon fought hard to stop the formation of the union, launching a multimillion-dollar campaign to halt employees' efforts. The e-commerce conglomerate is currently seeking to overturn the win and redo the election, citing that organisers acted in a way which tainted election results. Currently, no Amazon warehouses in the United Kingdom have unionised. However, no laws are preventing them from doing so. 
If the release of the new app goes ahead with such vigorous censorship as has been reported, likely, Amazon will further escalate employee attrition and the very issues they are attempting to eradicate.