Alec Baldwin Set To Address the Rust Set Shooting In Upcoming Interview
Alec Baldwin Set To Address the Rust Set Shooting In Upcoming Interview
[simple-author-box]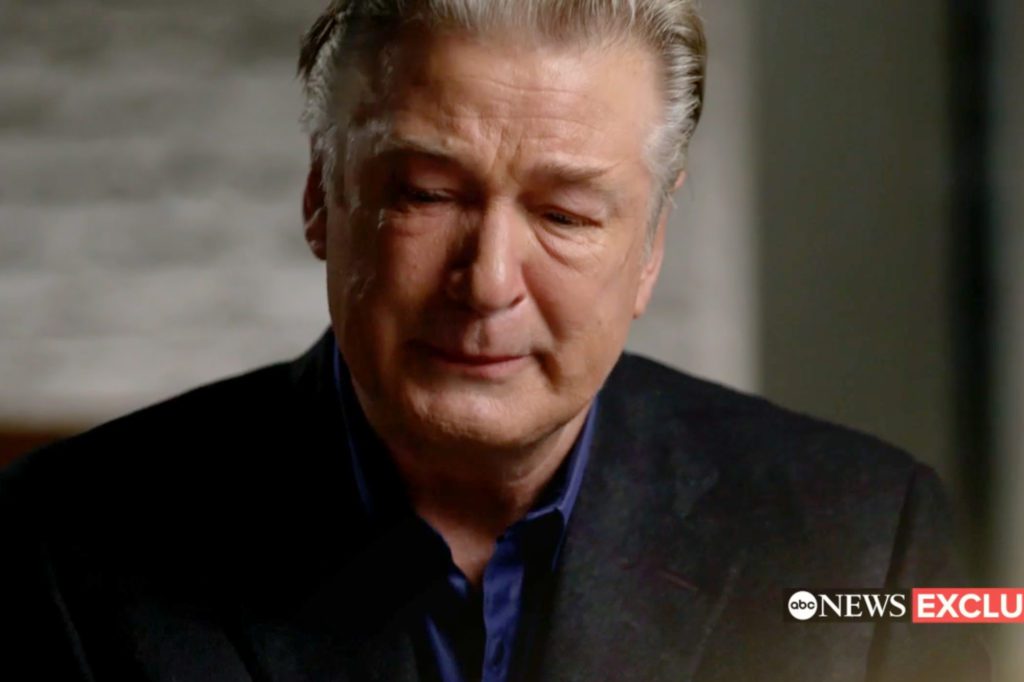 In a story that shocked the world in October of this year, renowned cinematographer Halyna Hutchins lost her life in a fatal shooting involving Hollywood actor Alec Baldwin on set of the film 'Rust' in New Mexico.
Now, after remining silent and cooperating with investigators, Alec Baldwin is speaking out in his first interview regarding the tragic events of that day. In a promo clip, Baldwin can be seen sobbing while speaking to Good Morning America host George Stephanopoulos.
Yesterday, Stephanopoulos confirmed that he had sat with Baldwin for an hour and 20 minutes, calling the conversation "intense," "raw" and "very candid," saying that Baldwin answered every question and that throughout his 20-year career, having conducted thousands of interviews, Stephanopoulos revealed that his interview with Baldwin was one of the most intense he has ever experienced.
One of the most shocking moments from the clip is when Baldwin says, "The trigger wasn't pulled, I didn't pull the trigger… I would never point a gun at anyone and point a trigger at them, never." This admission raises many questions and Stephanopoulos questions how a real bullet even made it onto the set, to which the actor replies: "I have no idea, someone put a live bullet in a gun, a bullet that wasn't even supposed to be on the property."
The full interview will air on ABC in the US at 1am UK time tomorrow.
During initial investigations into the death of Halyna, 500 rounds of ammunition were discovered on the movie set on the outskirts of Santa Fe: a combination of blanks, dummy rounds and what appeared to be live rounds. Industry experts have confirmed that live rounds should never be on set.
In the latest developments, authorities have searched the premises of an Albuquerque-based firearms and ammunition supplier in an attempt to purse new leads on possible sources of the live ammunition involved in the fatal shooting.
While extremely rare, this is not an isolated incident and according to The Associated Press, there have been at least 194 serious television- and film-set accidents in the USA from 1990 to 2014, including at least 43 deaths.
In March of 1993, actor and son of martial arts legend Bruce Lee, Brandon, died during filming of 'The Crow,' after being shot with a gun that was supposed to fire blank cartridges. 9 years prior to that incident, actor Jon-Erik Hexum accidentally shot himself in the head during a game of Russian roulette on set of the TV series "Cover Up."
The death of Halyna has sparked widespread debate on the use of guns on film sets, with many calling for stricter regulations or a complete replacement with alternatives, such as airsoft guns.
According to the AP news agency, the US federal workplace safety agency doesn't regulate gun safety on set and many states leave it to the industry to create its own rules. In a blog posted in 2019 for the American Society of Cinematographers, Dave Brown stated: "CGI may be used for close-range gunshots that could not be safely achieved otherwise, but yes, even with all the advancements in visual effects and computer-generated imagery, we still fire guns with blanks… The reason is simple: We want the scene to look as real as possible. We want the story and characters to be believable."
I don't know about you but I'd much prefer a shooting scene to look a little 'fake' and know that everyone involved was safe. I can say with confidence that it wouldn't affect my enjoyment of the movie and it's clear that many agree, with a petition to ban the use of real firearms in a bid to demand better working conditions for crew having over 116,000 signatures.
Many industry professionals have also pledged their support to the calls for change, with Eric Kripke tweeting, "a simple, easy pledge: no more guns with blanks on any of my sets ever" and actor Dwayne Johnson has promised to only use fake guns on his sets going forward.
The heart-breaking death of Halyna Hutchins has been a catalyst for change and it's clear that regulations within the industry need to be revised. Is it OK for real guns to ever be used on set or is it simply too much of a risk? Let us know what you think.
The full interview with Alec Baldwin will air on ABC in the US at 1am UK time tomorrow.