Three Queens, One Castle
Three Queens, One Castle
[simple-author-box]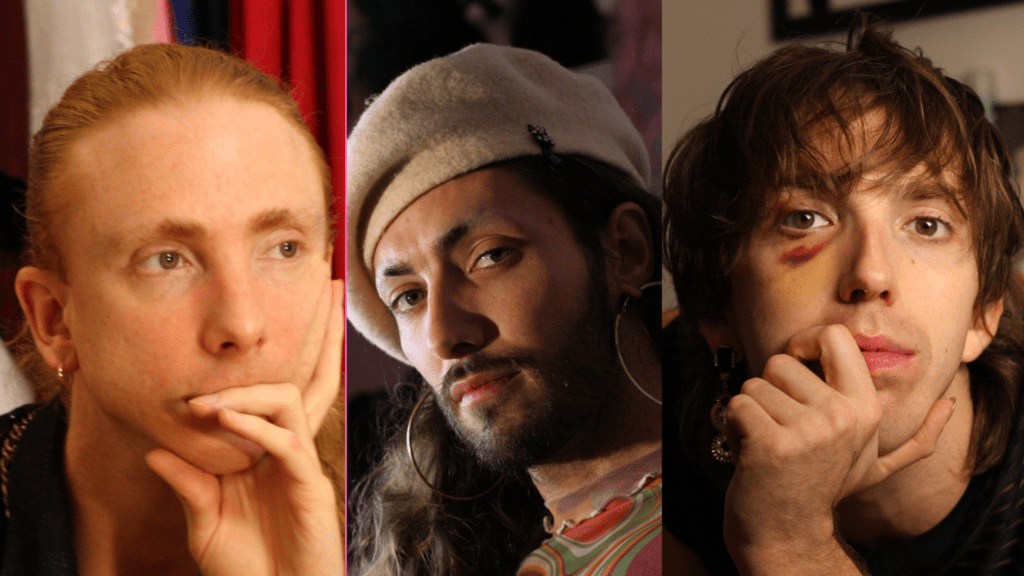 A sneak peak into the home of trans drag artists Margo Marshall, Cazeleon, and SueGivesAFuck.
As much as it may sound like the elevator pitch for a sitcom, 'three trans drag artists share North London house share' is in fact the day-to-day reality of three very special ladies. The Haringey home in question is one of surprising calm and order, with little evidence to suggest one were in the realm of queer royalty: a single small room stuffed at the back of the house holds just two rails of dresses, as well as a tiny side table bedecked with only a handful of wigs. 
The house itself is modestly sized – despite the enormous personalities contained therein – with a functional sunlit kitchen, a cosy living room packed with sofas, and an exposed staircase that affords every guest the opportunity to descend from the bathroom with all the chintzy grandeur of a Dynasty character swanning through a diamond-encrusted dinner party.
 Having interviewed the breathlessly energetic Margo Marhsall earlier this year, for a piece on how they came to recognise and embrace their trans identity, I was similarly enchanted by the hospitality of their two housemates. Simply being an acquaintance of Margo's was sufficient qualification for Misses Cazeleon and Susan to take me aboard as one of the family, offering me whatever drinks were in the fridge and an antibacterial wipe to clean my phone after its grimy transit across the city.
The innate friendliness of all three drag artists is shared by a distaste for gender norms, as exhibited through their respective stage personas. Margo, Caz, and Sue all identify as non-binary and strive to dissolve barriers of conventional masculine or feminine behaviour with fist-shaking, original songs and brazen outfits.
But, just how did these three queens come to share the same castle?
Let's start with Susan. Studying Philosophy at Cambridge "a hundred years ago, with no idea what I wanted to do with my life," they spent much of their degree acting in Shakespeare productions in decidedly subpar roles such as Spear Holder #2 and Friar #3. Several years through the wilds of dramatic unemployment followed, with stints in film, admin, and any other agencies that were willing to overlook Sue's universal disinclination to fraternise with colleagues.
 "Then, at the age of five thousand," they recall, "I discovered drag, mainly though queer club nights like Sink the Pink. And here was a performance style that not only overcame gender dysphoria but actually made the gender dysphoria the performance."
 It was this belated introduction to the world of drag that brought Susan into Margo's orbit, wherein the two quickly gelled: barely a day had passed before they both found themselves at an afterparty with no phone and no keys. "That set the tone for the first couple of years of our friendship," Sue summarises. "Within a few days of Margo moving in we began what I called our 'sex positive femme journey', where we would get into drag and invite straight men over for hook ups. Before too long I was making a tidy profit off it."
Much of Sue's current social media activity is dedicated to sharing some of these colourful misadventures, offering an enlightening and entertaining insight into the activities of a trans escort – and always looking a million dollars as they do it.
 A fellow #fiercequeen herself, Margo Marshall followed a path much like that of Sue, undertaking formal artistic training only to find their greatest success in London's alt-drag scene. Born in Leamington Spa, it was two weeks after their 18th birthday that they fled for Liverpool to study at the Institute of Performing Arts.
"I spent the best part of a year auditioning for shows, getting small roles and one piece of work," they recall, with the lack of roles prompting them to acquire an MA from a contemporary dance school. "They said I was too feminine to work for a big dance company, and of course my world came crashing down," Margo remembers glibly. "Everything I'd spent training for from the age of six felt like it had gone."
They opted to party away the pain from that point on, making the best of their 2015 move to London by putting in a few months of "going crazy". Fortunately, it was while painting the town red that Margo wound up at one of London's best-known alternative queer performance spaces, The Glory. There, they were introduced to a subversion of gender they had never before experienced, offering the first inkling that drag could extend so much further beyond impersonations of pop culture icons.
The famed Lipsync1000 drag competition brought Margo back to The Glory, where they first met Susan – the winner of that year's top prize – kickstarting a career in drag and forging a lifelong friendship at the same time.
 "I found her ridiculously funny and a noticeably quirky character, which is hard to do in east London," Margo recalls. "A few months later my housing situation was winding me up and I posted on Facebook I needed to live with some queers and Susan was the first reply. I went up, viewed a spare room in their house and moved in the next week. We've lived together ever since."
Their encounter with Margo, meanwhile, came from a show they did together a few years after Susan had first laid eyes upon them as a contestant in Lipsync1000. As Susan remembers of Margo, "My jaw was to the floor after her performance, so it is no surprise that when our paths eventually did cross, we hit it off right away! Margo and I became quite inseparable in 2020 and were really there for each other in some very testing and depressing times.
"This house has been what I have been wanting and waiting for the entire time I've lived in London and I am very blessed to have met my sisters, for this formation to eventuate in such an organic and beautiful way." 
 Outside of th
e comforts of living with friends and fellow artists, Margo finds it especially stabilising to share space with other members of the trans community. Having grown up in an entirely heteronormative environment, and recognising their trans identity only in adulthood, Margo decrees "so much needs less explaining. As trans people we are asked to constantly defend ourselves. It's nice to come into our space and know none of that stuff is even on the cards for the evening."
The final piece in this queer puzzle is Kazim Kane. A raucous mix of high camp and mischief best known by their stage persona Cazeleon, Kazim was born with Turkish roots and raised in Melbourne, Australia. It was during childhood that Kazim's love of performing first made itself present, beginning formal training in acting, dancing and singing at age 12.
"By the time I turned 19 I had been accepted into one of Australia's most prestigious drama schools, WAAPA, to study Musical Theatre with alumni such as Hugh Jackman and Tim Minchin. It was a dream come true and one I'd been working very hard towards."
 Further training for film and television followed in Sydney, before eventually moving to London with the concrete goal of pursuing a career in the arts – even if cabaret and drag were not avenues Kazim had anticipated. The discovery, and subsequent embrace of drag was down to the comfort and security they felt within their new home, "in the communities I discovered in East London, the queer spaces and parties I went to, and the drag competitions I did."
 It was in late 2016 that Kazim's alter ego Cazeleon was born at a Camden cabaret competition, as an extension of Kazim's own personality that allowed them to express "a subversion of gender roles without all the shame and trauma I had surrounding that, growing up as Kazim Kane in an industry that was ruled by toxic masculinity and ignorance."
 Those first steps to becoming the gender-defying, voluptuously bearded queen they are today also put Cazeleon on the path toward the queens with whom they have resided in recent years. Caz's first encounter with Susan came courtesy of that 2016 show in Camden, even though they were actually competing against one another.
"I was mesmerised at her quick wit, clever humour and stunning voice," Caz recalls. "Since then, we have run into one another over the years, particularly New Year's Eve 2019 when Sue and I were hired to host a gig together. It was just divine, hilarious and camp," they recall. "Although we had known each other all these years, sometimes it just takes the right time and place to connect with someone on a deeper level."
 The dynamic within the house is one so harmoniously balanced thanks to the level of artistic and personal maturity achieved by its three tenants, with Caz expressing gratitude for all three of them having been self-made and self-actualised. The initial generosity I enjoyed upon first meeting Caz and Susan is indicative of the worldview upheld by all members of this household, with Caz outlining that their door is always open because "banding together is so important in a world that is already so divided. Our friendships, sisterhood, and core house values come from a desire to celebrate and uplift one another – all whilst having the incense burning to keep the energy flow clear, of course."
Susan concurs, believing the lack of bitchiness, manic energy, or "competitive nasty strokes," is what keeps the house functioning so beautifully. In a usual busy week the walls quiver with the sound of power ballads being belted out over sewing machines or the making of comedy TikToks. Yet for all the assumptions of what a house full of working drag queens may look and feel like, the cosy Haringey home in question is one of great charm and mellow beauty.
 As Margo says of their North London queendom, "It is wonderful to have housemates who encourage your creativity, lending our skills to elevate each other's work and understand the niche bizarre world we live in."
 Reaching far beyond the parameters of that sitcom pitch line, the reality of a single castle shared by three uniquely creative, dazzlingly energetic queens is one that this writer feels privileged to have been invited into. To have peered behind the curtain as he has is to have found a home space filled with as many wigs and sequins as shared experiences of trust, love, and friendship.
 Long may these three queens reign.