Back 4 Blood: Everything You Need to Know About Fun, Annoyance and Mutations
[simple-author-box]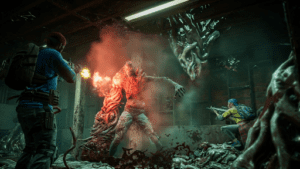 Back 4 Blood, the spiritual successor to Left 4 Dead, is the co-op zombie survival game.
Since the beginning, Turtle Rock's Back 4 Blood has been receiving a lot of mixed feedback. A lot of players liked this utterly complicated game, but many were disappointed as well. Some players feel that the Back 4 Blood lacks the personality and attention to detail that the Left 4 Dead series is known for.
Overall, this complicated game is designed to get you in some buddies and squad up shooting as quickly as possible to tackle the zombies.
Here, we are covering everything you need to know about Back 4 Blood – tips, tricks, and everything in between that will improve your experience in the fight against the Ridden.
Back 4 Blood System Requirements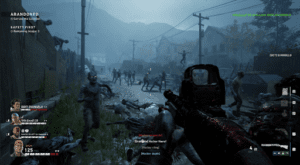 To play the Back 4 Blood, you need to have these minimum system requirements.
CPU: i5-6600 (3.3 GHz) OR AMD Ryzen 5 2600 (3.4 GHz)

RAM: 8 GB

OS: 64-bit Windows 10

VIDEO CARD: NVIDIA GeForce GTX 1050 Ti or AMD Radeon RX 570

PIXEL SHADER: 5.1

VERTEX SHADER: 5.1

FREE DISK SPACE: 40 GB

DEDICATED VIDEO RAM: 4096 MB
Along with this, Back 4 Blood is compatible across a range of devices: Playstation 4, Xbox Series XIS. Xbox One consoles and PC via Epic Games Store and Stream. The game is available on Steam for £29.09.
Back 4 Blood Storyline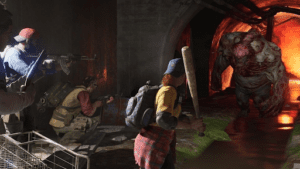 Back 4 Blood takes place where a highly infectious disease breaks out with a parasitic culprit behind it, called the devil worm. The nature of this parasite is unknown, but its effects are horrifying. It reacts with the human body differently, transferring some into zombies, called Ridden, some into monstrous entities with exceptional abilities. 
The infection created a post-apocalyptic world where communities formed small, secluded, and protected settlements with highly protected and strong walls. Fortope, one of the many settlements, sends out groups of veteran survivors called Cleaners, who come together to fight off the zombies, make supply drops, collect supplies, clear out red ends and run other errands. 
Characters in the Back 4 Blood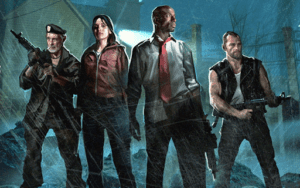 Back 4 Blood features eight survivors, known as cleaners, who unite to fight against the zombies. 
The eight Cleaners include – Evangelo, Karlee, Doc, Walker, Holly, Hoffman, Jim, and Mom. 
From these eight characters, only four cleaners are introduced in the first game – Walker, Holly, Evangel, and Hoffman. To unlock the remaining four characters, you need to finish the first four stages of Act 1.  Act 1 consists of four chapters having different missions.
Once you complete all these missions, the previously locked characters Doc, Hoffman, Jim, and Karlee will be displayed. Now, you have the option to choose any of the four cleaners from these eight cleaners in a game. Each character has its card with three abilities. 
Here is what you can expect from the eight characters of the roaster.
Evangelo: A born survivor
Break out of grabs once every 60 seconds

+75% breakout speed.

+25% stamina regeneration.

+5% team movement speed
Walker: A seasoned veteran
Precision kills increase Walker +20% accuracy for 5 seconds

+10% damage

+10% team health
  Holly: Enthusiastic and fun-loving character
Recovers 10 stamina, killing a Ridden

+10% damage resistance

+25 team stamina

Start with a stun gun
Mom: Tough and Caring 
Instantly strengthen a disabled teammate once per level

+1 support inventory

+1 team extra life

Begin with Pain Meds
Doc: Pragmatic Medical Professional
Treat each teammate for 25 health once per level

+20% healing efficiency

+25% team trauma resistance
Hoffman: Well organized and conscientious doomsday prepper
Chance to find ammo whenever when killing a Ridden

+1 offensive inventory

Start with an +10% ammo capacity
Jim: Middle-aged Finleyville native and outdoorsman
 Precision kills grant 2.5% stacking damage.

+25% ADS speed

+10 % team weak-spot damage
Karlee: Self-sustaining survivor
Sense hazards and mutations

+1 quick inventory

+50% team uses speed
Pro tip: The annual pass (included in the Deluxe and Ultimate editions of the game) will add new playable characters. 
Back 4 Blood Gameplay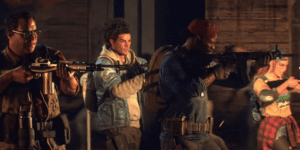 The gameplay of Back 4 Blood is similar to Left 4 Dead to a great extent.
 The game has a story-based campaign with two modes. A four-player cooperative game mode played through several acts and an eight-player PvP mode that focuses on multiplayer and replayability. 
An exciting feature of Back 4 Blood is cards. At the beginning of each level, players need to build their flight with cards to set the different elements of gameplay. It includes the player's health, damage, and stamina. 
The qualities of the cleaners will upgrade as per the mode of the game. There is also an AI Director. It will use the corruption cards to limit the player's progress by generating additional enemies, activating a fog effect, and increasing the swarm size.
 Back 4 blood is all about that sweet four-player co-op, but it offers solo play as well. Yes. But you might not want to play it. 
A solo campaign is a separate option on the menu that limits almost all forms of progression, no achievements, no stat tracking, and no supply points in the game currency used to unlock new cards and cosmetics. 
The only things you can access in solo are new acts and levels as you play through, but without earning the achievements and supply points. 
It has got to feel bad, and you can't play the online mode and set everyone to bots; it forces you to matchmake. 
Developer turtle rock studios have already made a statement about this on Twitter that – it is discussing ways to address the lack of progression in solo mode but with no time frame for when said changes might occur. 
Your best bet right now is to avoid solo mode altogether.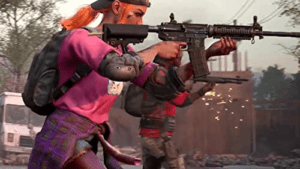 Overall, Back 4 Blood is a perfect game with precisely tuned difficulty and incredible pieces with a banging soundtrack.
It gives you an adrenaline rush, white knuckle sweaty palm tension, minor annoyances, and a refreshingly complete and competent multiplayer experience all at the same time. 
So, this was all the stuff that you should know about Back 4 Blood. 
Now, get ready and brace yourself to make the best of your abilities and smash unattainable goals.
If you are looking for similar information on other games, check out our other articles as well.