RuPaul's Drag Race UK- Season 2 Finale
RuPaul's Drag Race UK- Season 2 Finale
Well. That was quite a finale to Season 2 of Drag Race UK. I'm sad it's over — I really am. It's been such a lovely treat every Thursday throughout this lockdown. But, it's nice to know that performance venues will be reopening in the foreseeable future, so we'll have live drag once more without much longer to wait — and another season of Drag Race UK before the end of the year. 
After last week's surprise non-elimination, we were left with our four finalists: Bimini, Ellie, Lawrence and Tayce, with representation from England, Wales and Scotland. Season 1 only had mostly English contestants, with one from Northern Ireland, so this was a nice change. The four finalists are all utterly lovely and clearly get on, especially the two Scottish queens and the two London queens. There was a really lovely moment where Ellie talked about how she'd approached Lawrence a few years previously for advice about starting drag — and now here they were, competing against each other in the biggest drag competition this side of the Atlantic, both hoping to snatch the crown for Scotland. 
There was no mini challenge this week; instead, each of the four got a sit down chat with Michelle and Ru to discuss life, drag, and trauma — all the usual fare. It felt like the episode needed a bit of padding, really, although it must have been pretty special for the queens to have an intimate and honest time with two such influential people in the worldwide industry that drag has become. We got a few touching moments: Bimini revealed a difficult past of loss and substance abuse, but one that she moved on from thanks to meditation, yoga, Oprah — and drag. And Tayce casually mentioned that her dad was in Wham! — no biggie. 
But the main challenge, as is standard in Drag Race finales, was to write and record a verse to one of RuPaul's songs, in this case, A Little Bit Of Love, then perform it with full choreo. It was entertaining to watch the prep but the song itself fell flat. The mixing was awful — it was impossible to discern about half of the lyrics the queens had written, which they had to perform at breakneck speed — and the editing of the performance was out of sync, not ideal when you're lip syncing… They all looked stunning, though: Bimini with a Jean Paul Gautier moment, Ellie really commanded the stage, Lawrence really tried with the choreo, even if she stumbled a few times. Tayce stole the show, though — I couldn't take my eyes off her throughout, no matter whose verse it was. I was surprised and delighted when all the eliminated queens joined onstage for the final choruses — it was sweet and in keeping with the theme of the song, and the show as a whole, of togetherness and love. (The song is streaming now, with a portion of the proceeds going to Comic Relief, but it's not going to have a fraction of the success of UK Hun?) 
The final runway is always a chance for each queen to showcase her most refined and elevated drag — and all four did exactly that. Bimini gave us a bridal moment, which is brave, as it's been done so many times before, but the level of detail was astonishing. It was polished, the silhouette was striking and intricate. Her hair and makeup were both gorgeous and complimented the look while adding to the ensemble. Ella Lynch, Bimini's regular fashion collaborator, deserves a lot of praise for this piece — absolutely exquisite.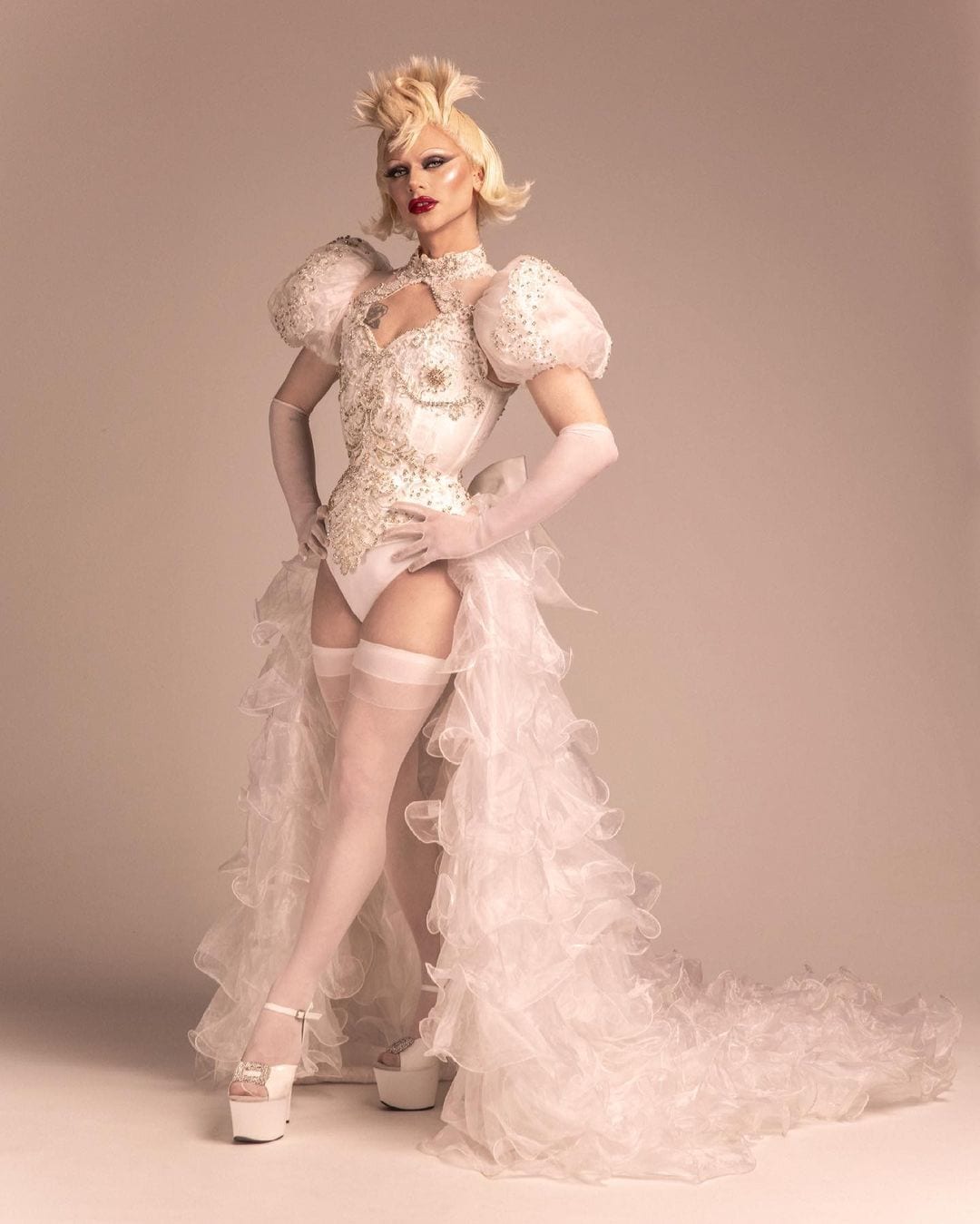 I think this is the best Ellie's looked all season. Her makeup was as good as ever, but the look was next-level, serving us bubblegum Versailles princess. I've occasionally found her looks to be a bit kitsch and the refinement here really suited her. It's hard to get a sense of scale on a tv screen, but the sheer volume of the outfit was insane — Ellie is tall out of drag, so with a tall wig, heels, and a huge hoop skirt, she took up half the stage! But it all worked together, it felt refined, even if the jewellery looked a little cheap. Definitely not a performance look, but a wonderful serve for the main stage. 
Lawrence was clever with her choice, going for a drag racing-inspired look. It's a detail that's so often forgotten at this point — that so much of the show is a play on that culture of motor racing — with the exception of the title sequence and the contestant trophies. It was a beautifully constructed outfit, very on-brand in terms of silhouette and makeup for Lawrence, and little details like the RuPeter badges for earrings definitely added a certain something. It wasn't quite to my taste, but I appreciate the thought and the effort that went into the ensemble. 
Tayce looked beautiful. It was something we've seen before, to a certain extent, on her, but she served it with such style that it was captivating and enchanting nonetheless. (It felt very similar to her main promo look, but obviously, that was worn and shot long after the finale was filmed.) I had hoped we might see a gown from Tayce, something a bit different — but she stuck to her guns and should deserve kudos for that, too. Again, not my favourite look personally, but it was objectively wonderful. 
The feedback from the judges was, as you'd expect at this stage, glowing. They picked up on Tayce's performance, thankfully, and the fact that Lawrence did struggle onstage, especially when compared to the others. Constructive criticism is a bit redundant at this point, though — we just want results. The queens untucked backstage amongst all eliminated queens, who were each allowed to serve one more look. Standouts were A'Whora, looking as fashionable as ever, Joe Black, monochrome in blood red with a sailing ship on her head, and Ginny Lemon, who refused to change her drag to suit the show and turned up in carp slippers. 
Ellie was eliminated first, which seemed fair — much as last season Baga was an obvious third place but nonetheless deserved to be in the final. That left a three-way lip sync for the crown to Elton John's I'm Still Standing. Lawrence served face for days but struggled to move much, in large part down to a restrictive gown. Tayce was as brilliant as ever, although a few of her flourishes have almost become familiar by now. And Bimini used the full range of the stage, giving big emotion — and finding time to throw in her party trick, a Russian squat dance in ten-inch heels. 
To me, it was cut and dry — Bimini was going to win. I think Tayce had the best episode and could have snatched the crown in a bit of a sudden twist — but taking into consideration the fact she was bottom two four times, it seemed like a long shot. 
Honestly, I did not expect Lawrence to get the crown — the four of us watching last night were all genuinely shocked. It's not that she's not a deserving champion or a worthy winner — I'm very happy for her. She was consistent throughout the series, went out of her comfort zone, and has a really strong identity and brand. She faltered where I expected her to shine — Snatch Game, for example — but was charming and engaging throughout. It just — given the narratives we've had in the show over the past few weeks, and even in the editing of the finale, she has struggled where Bimini triumphed constantly and effortlessly. 
I was disappointed — not so much in the decision itself but in the show. It felt manipulative, like they produced these recent episodes to get this reaction. It made it feel less like Drag Race UK, emphasis on the drag, and more like RuPaul's Drag Race, emphasis on the RuPaul. And it seems like a poisoned chalice for all involved — last night, there was no huge celebration for Lawrence on social media, instead, everyone was calling for kindness and to accept the result. "ROBBED" trended on Twitter, whereas "Congratulations Lawrence" didn't. Drag Race has a notoriously savage fan base and Lawrence quit Twitter a few weeks ago because of the vitriol she received after one episode. It feels like for many fans, Lawrence's win will have an asterisk, which is as frustrating for Lawrence as anyone else. 
Going into tonight, based on various polls I saw, Bimini had more support than the other three queens put together to snatch the crown and an unparalleled track record since the Covid break. It feels like other factors were taken into consideration — from the grand prize of a mini-series in Hollywood, which Lawrence is definitely well suited for, to who RuPaul warmed to more from the start.
The #DragRaceUK Top 3 were my favourites from the start - any one of them could've won, and I'd have been happy.

Buttttt... it was clear who was Ru's favourite, and was marked out for the crown from well early on in the season.

— Ash Sarkar (@AyoCaesar) March 19, 2021
Assuming they did the usual Drag Race trick of filming three alternative endings, meaning no one other than Ru and the producers knew the winner until it aired, including the finalists, my immediate reaction was feeling sorry for Bimini. What more could she have done to win? I have no clue. She won four of the last five weeks, was constantly surprising, versatile, funny and charming — making no enemies and having no drama throughout the season. At least $100k wasn't on the line, as in the US show, which changes the stakes dramatically. Sometimes, though, it can be better in the long run to be the people's princess rather than the victorious queen. 
It's a shame that the season didn't end for everyone with a feeling of elation and euphoria for everyone, when it's brought so much joy at a time when it's been needed. I felt a bit deflated: like, what's the point of getting invested in the queens, of rooting for the underdog, if the decision feels so predetermined? I like Lawrence — she's a great queen — but I do not think there's a case to be made that she won this episode — I'd easily give that to Tayce. And, without that, we're going on track records, where Bimini was stronger overall. 
Ultimately, though, any of the top three were worthy winners — I mean, what a top 3, truly demonstrating the quality and variety of British drag. But this episode, from the twist ending to the lacklustre song, was a strange ending. There's an altogether different silver lining to this, though: it's a reminder that drag exists in so many shapes and forms beyond Drag Race. Winning isn't everything. If you like a queen — support them, buy their merch, see their shows! The United KingDolls — undoubtedly the most successful aspect of this show — are going on tour, so you can get all of the final three at once (with added A'Whora)! Expand your horizons, support your local venues, who need it now more than ever, and get excited for live drag once more! There'll always be more Drag Race, anyway — and maybe, hopefully, an international All Stars season too…