The world's oldest and most prestigious tennis tournament has been virtualized as part of the Metaverse
It's not only luxury fashion and tech brands diving into the Metaverse. Now, visitors can venture into Wimbledon's virtual hill. The All England Lawn Club has released a virtual mirror experience for Wimbledon's iconic viewing spot, brought to users worldwide by American Express.
A user recounted their experience on the Wimbledon Virtual Hill, mentioning how there's also a feature for playing tennis with other players. There's a picnic space and you can also find a virtual replica of Sir Andy Murray who will guide you around the hill. Amex cardholders can access an exclusive experience with Sir Andy Murray, in which you join in a quest to take a selfie with him.
Upon arriving, you'll witness interesting video highlights from the tournaments on the screen scattered throughout the location. The Wimbledon World also features a gift shop where you can exchange WimbledCoins, a crypto token, for digital items. Some of these include clothing items from Ralph Lauren's 2022 Wimbledon Collection.
The Virtual Hill is what's known as a metaverse-style socially interactive experience, where visitors can create a virtual camp on Wimbledon's mound. Fun games and Metaverse experiences are also available for those visiting the virtual Wimbledon. A trivia activity tests users' Wimbledon knowledge and helps them learn more about its history.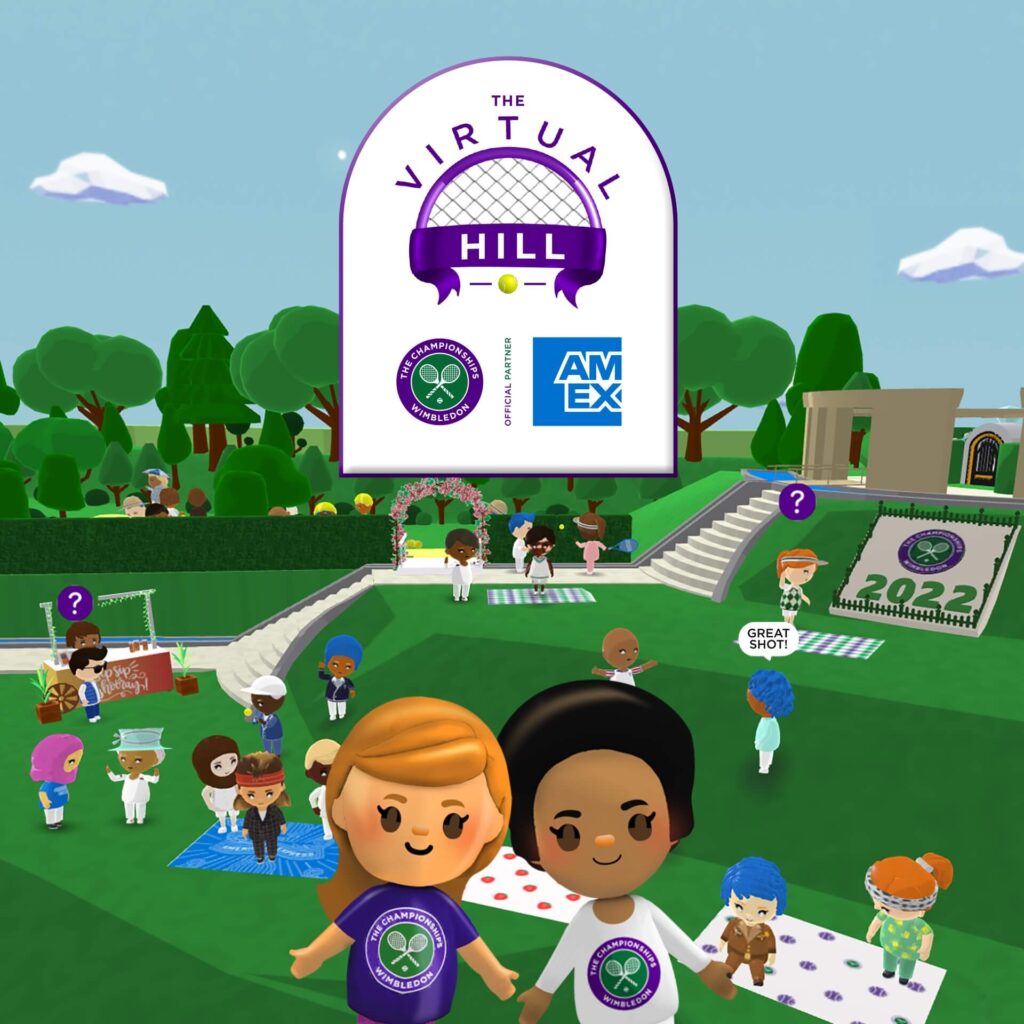 And, there's an attractive social aspect to Virtual Hill, where users can visit it with family and friends, allowing them to experience the reimagined iconic fan destination together. They have the option to react to the live matches with emojis and even share the moments directly on social media. They can take on daily missions that involve answering the quizzes correctly or finding the hidden treasures scattered throughout the Hill.
Another available experience is the 'Up Up We Go' virtual air balloon, which provides visitors with a beautiful aerial view of the Hill and allows them to scout for hidden items in the mound.
Most importantly, creating virtual experiences such as the Virtual Hill drives the Metaverse one step closer to mainstream appropriation as a channel for important events in the sports industry. 
NFTs, the Metaverse, and sports have always gone hand-in-hand. One of the biggest NFT marketplaces, NBA Top Shot Marketplace, exclusively features NBA-related content and digital assets. We're witnessing a digital revolution of the sports industry in Web3, and things seem to be getting more exciting as we progress into virtual realities.
For more information on accessing Virtual Hill, check out this link to their webpage.