Scotland now requires public facilities to provide menstruation products free of charge
The new law seeks to end period poverty, the term used to describe the struggle of low-income people to afford quality period products. The average period lasts about five days and purchasing the products could cost up to £8 a month just for tampons and pads, let alone other products for the different types of periods.
As described by Georgie Nicholson of social enterprise 'Hey Girls', period poverty is best illustrated with this example: You go to the supermarket and you have to actually choose whether you can buy a bag of pasta or a box of tampons. It's that basic. And, in Scotland, one in four respondents at school mentioned they had struggled to access period products, as per a survey of more than 2,000 people in 2018.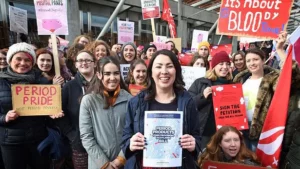 After the college initiative was launched, another survey discovered that two-thirds of the participants received free menstruation products from their school and that a large majority (84%) were happy with the impact the scheme had on them.
The Period Products act will make obtaining free period products accessible from educational institutions without justification or explaining the amount they need. They also won't have to complete any forms or provide information save for postal delivery and design. It's estimated that the bill will also have a positive impact on education. 
Reproductive rights in Europe are slowly becoming more important and respected by the federal governments who have introduced many bills with positive outcomes for women's health. Some recently passed European legislation include Spain's "Only Yes Means Yes" Consent Bill, and the possibility of the Menstrual Leave policy.
Gone will be the days of people going to the supermarket and choosing a bag of pasta or a box of tampons for the month, thanks to the Scottish government's initiative.