'Pageboy', the upcoming memoir from Elliot Page, is set to be an Immense Personal Triumph
Described by publishers as "ground-breaking", Juno and The Umbrella Academy star Elliot Page has announced the release of his first book and memoir, 'Pageboy'. With a release date of June 6th 2023, Page took to Instagram to share the news, along with an in-depth and personal explanation as to the contents and meaning behind his decision to write such a memoir. 
The actor wrote, "The act of writing, reading, and sharing the multitude of our experiences is an important step in standing up to those who wish to silence and harm us." Pages' use of 'us', here, is in reference to the trans community, following the actor's December 2020 announcement that he identified as a transgender man following months of intense self-reflection during the COVID-19 enforced lockdowns.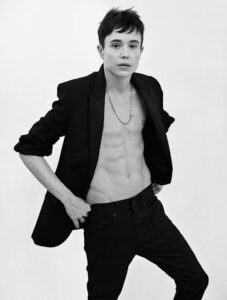 He reflected on this further through the announcement of 'Pageboy', highlighting how promotional photoshoots often left him feeling uncomfortable in his own body during his pre-transition stardom: "At many points in my life it felt unbearable to be in front of a camera but making this cover with acclaimed photographer Catherine Opie was a joyful experience that I will never forget."
He takes this notion further, ending the post on a note of hope for other transgender individuals that this comfortability is achievable, which appears to be a message that will continue throughout the pages of his memoir. "I could barely sit still, let alone focus long enough to complete such a task. At last, I can be with myself, in this body."
Page is best known for his role in the coming-of-age teen movie Juno, released in 2007. More recently, the star has taken on a leading role in popular Netflix superhero series, The Umbrella Academy.
'Pageboy' by Elliot Page will be published by Flatiron and available for sale in stores and online from June 2023.