Season 3 of The Umbrella Academy dropped last week to a fanbase hungry for the next instalment
Based on the comics written by Gerard Way and illustrated by Gabriel Ba, The Umbrella Academy follows the story of seven adopted siblings with superpowers. Season 3 kicks off with the team returning to 2019, only to find that they have been replaced by 'The Sparrow Academy',  another team of stronger, sleeker superhero siblings.
https://www.youtube.com/watch?v=hs6alRuY1UU
Broadly speaking, there are two types of superheroes in fiction, the ones that are the best of the best, who have earned their powers through discipline and determination and others who just kind of got them by chance. Quite often, the latter type is more engaging because we can see an element of ourselves in them. For example, Spider-man is more relatable than Batman, despite one having powers and one not. This might be why The Umbrella Academy as a concept is so enticing. They have powers by chance and, though they have had rigorous training from childhood, they for the most part reject it, which acts as a metaphor of breaking free from your parent's expectations.
Season 3 continues this theme by reintroducing their dead adopted father, the cruel but delightfully caricatured, Sir Reginald Hargreeves (played with aplomb by Colm Feore). The siblings' bonding, created by the collective childhood trauma, is tested by Klaus (Robert Sheehan), who begins spending time with Hargreeves. It also builds on the trope of a superhero's powers not being static, but being able to grow with practice, which is always fascinating.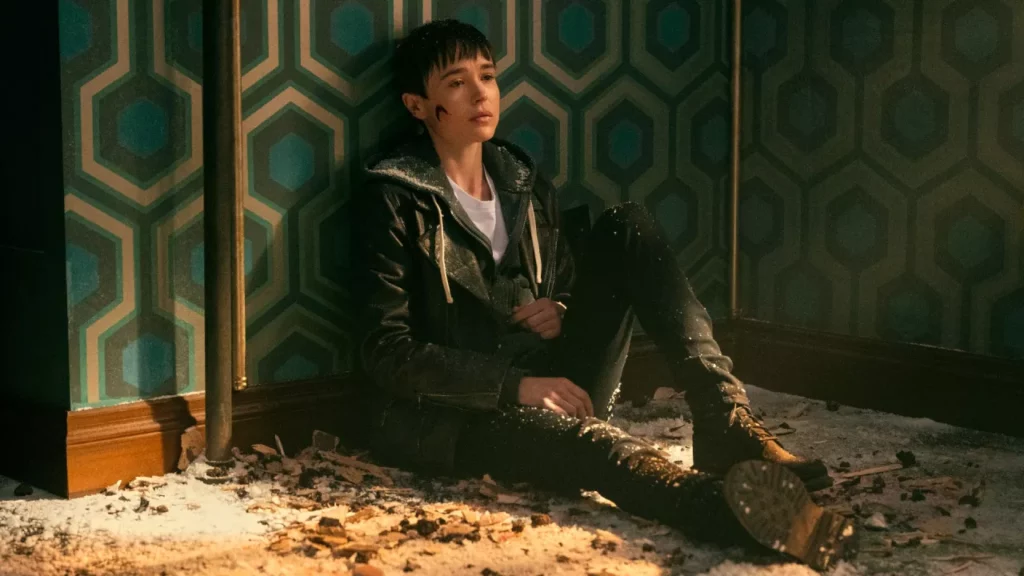 Something the show handles superbly is how the narrative responds to the real-life transition of Elliot Page, who came out as a trans-man in December 2020. Due to the nature of the show, they could have gone in any number of directions to accommodate this, Viktor could be an alternate version, a gender-flipped clone or Vanya from the future. What's interesting is they deliberately chose to do none of these things.
The showrunner Steve Blackman, in consultation with GLAAD, (Gay & Lesbian Alliance Against Defamation), a trans writer named Thomas McBae and Elliot himself decided to choose the most normal route possible. As Blackman told Comicbook.com, "it was really important to us not to make it the story of the show, which you could easily have done. We just wanted [it] to be a beautiful moment that was sensitive, that was real and you know, in a world where there's so much, you know, anti-trans (rhetoric) that we really wanted to tell a pro-Trans story". The Umbrella siblings' acceptance of Viktor is beautiful in its simplicity. Luther says he likes Viktor's new haircut, and that's just about it.
Despite this, there's a feeling of this series just falling short of heights reached by the previous seasons. The first series was a curious puzzle box that revealed its mysteries at its own pace and the second let us deal with searing racial tensions while trying to stop one of the most famous assassinations of all time. Season 3's big bad is dealing with a temporal paradox, which would be fascinating except they spend precious little time trying to address said paradox. In addition to this, the absence of Kate Walsh's Handler is keenly felt. Bucking the trend of making all villains sympathetic and relatable, the Handler was a power-hungry psychopath who was a joy to watch. But, we can forgive writers for removing a character when there's really nothing of note for them to do.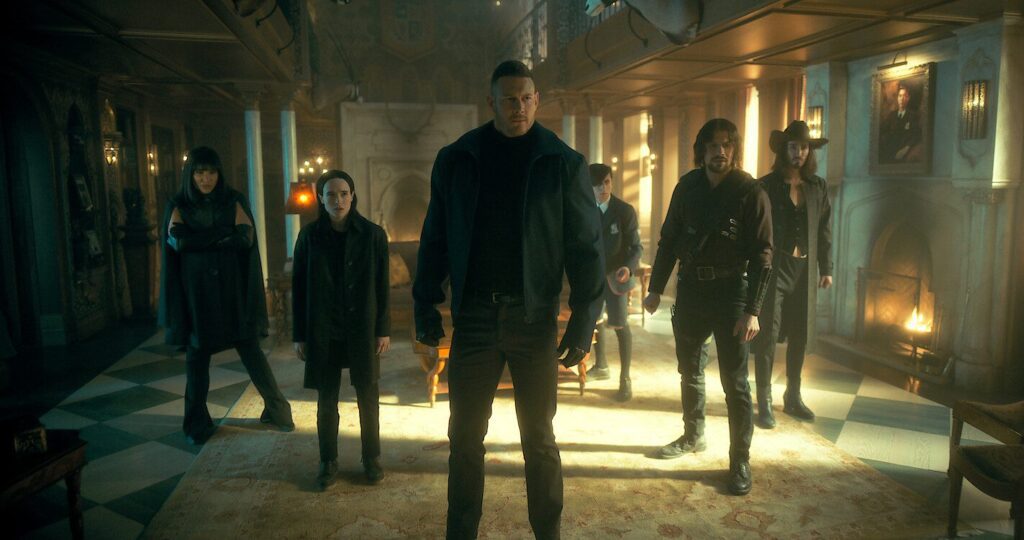 What's less forgivable is this series breaks some of the characters a little bit. Luther (Tom Hopper) and Diego (David Castañeda), who often seem dumb when compared with the world-weary Five, now just seem dumb full stop. Not to mention Allison, (Emmy Raver-Lampman) who responds to the loss of her husband and daughter by becoming unspeakably cruel, which for a character with so much heart, feels like a loss to us as viewers. The lack of variation in the setting doesn't help either.
All that said, there are some lovely moments of levity for each of the show's core cast and after more than two years of waiting (thanks Covid), it's just so good to spend time with these characters. Unlike the cynicism of The Boys or the groaning self-importance of The Justice League, The Umbrella Academy is a largely optimistic and unapologetically whimsical show to watch. Season 3 ends on a cliff-hanger, teasing more mysteries for a potential season 4, which at the time of writing, has yet to be confirmed. Whilst we can't wait for another season, knowing Netflix's penchant for cancelling shows people love, ending on a cliff-hanger these days begins to look almost reckless in its boldness.