Join the History of Caribbean Carnival in Britain to learn how this joyous celebration became a fight for freedom and identity
The Caribbean Carnival in Britain exhibition seeks to explore the purpose of a Caribbean Carnival and its combination of Trinidadian roots, African traditions and Jamaican music. It became a symbol of freedom in the face of oppression for the Afro-Caribbean community in West London's Notting Hill carnival. The event is set to take place on Thursday, 24 November, from 18:00 to 19:00 CET.
Samantha Allen, a member of The Different Level (a group of experts who believe in the power of art to initiate personal transformation), presents the Caribbean Carnival in Britain exhibition. Sam is an arts engagement specialist who works internationally with audiences, museums, and heritage professionals to align events and external communications. Most importantly, she's a passionate advocate of racial activism.
The historical background of the Carnival can be traced back to 1948, the post-war period when the UK had been devastated by World War II. The country needed people to help rebuild the infrastructure, and the Empire Windrush arrived in subsequent years bringing colonial citizens from the Caribbean to Britain.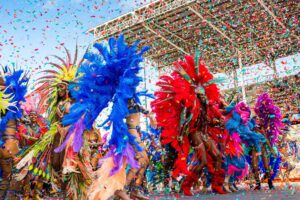 Once these immigrants from Jamaica, Barbados, Trinidad, and other Caribbean countries that were part of the British Empire arrived, they were employed as nurses, manufacturing, public transport and in construction,
Many of their traditions survived the inter-oceanic trip, including the carnival. The festival has occurred in London since 1966, on the streets of the Notting Hill area of Kensington. Members of the British Caribbean community lead the celebration, though everyone who wants to partake in the celebration con do so freely.
The Carnival tradition had been strong in the Caribbean. Thus, people who had come to Britain from the Caribbean wanted to create a music and dance festival that could unite the community.
The first carnival only involved a few people walking through the streets in costumes and carrying steel drums. It was a small but necessary milestone to achieve and establish the tradition.The carnival's first event is the street parade, which includes all artistic manifestations dressed in bright colors. There are decorated trucks called floats, which close the normal traffic roads for a couple of hours while the procession makes its way through the city.
The Caribbean tradition makes it so carnivalgoers can let their imagination run free. What's most important is the colour, and the costumes should be light enough for people to wear them. It is also seen by the authorities as a positive celebration of London's multicultural diversity, although there have been riots in specific instances. 
Now, the Caribbean Carnival is a celebration of Afro diversity, culture and history.