When Balenciaga isn't getting caught in drama with Ye, it's getting fire for controversial Ad campaigns that exploit children
In this instalment the Balenciaga Spring/Sumer 2023 drama collection, they're featuring Kim Kardashian. Here's a timeline of what happened when the fashion house released the most controversial ads of the year:
November 16th
Balenciaga first announced their newest Gift Shop campaign, photographed by Gabriele Galimberti.
November 23rd
The teddy bears wearing the BDSM attires were part of Balenciaga's Spring/Summer 2023 collection. 
Their scandalous ad on Instagram had a purse covering a document on a desk containing a slightly visible message from a court ruling on child pornography, which Balenciaga confirmed was from a 2008 Supreme Court case, United States v. Williams. And, the fashion giant was quickly bashed for its supposed pedophilic messages, prompting Balenciaga to pull the campaign and apologize on social media.
In a statement, the company said, "We strongly condemn the abuse of children in any form. We stand for children's safety and well-being." Of course, this only ensured their relevance during the holiday season. Photographer Galimberti also issued a social media statement claiming he didn't have any creative control over the commercial shooting.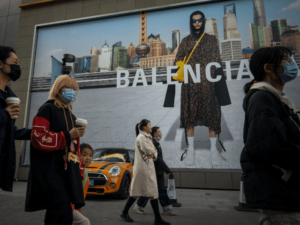 November 27th
While things could've stayed that way, Kim Kardashian spoke out through Twitter, expressing how she was shaken by the disturbing images. She mentioned she'd have to reevaluate her relationship with Balenciaga, as a mother of four.
Two separate publicity controversies caused Balenciaga to file a $25 million lawsuit against the production company North Six. Balenciaga hired the company to produce one of two advertising campaigns. A representative from North Six admitted that the company managed the ad shoot that included the court document, but they didn't disclose any information.
The second ad wasn't produced by North Six, and it featured kids holding teddy bear bags dressed in bondage-styled garb. But, the real question is, who thought these were good ideas? 
A user commented that Balenciaga is the champion of calculated "shocking" free publicity, and he might be correct. It might be that the brains behind the campaign knew that sharing these pictures would rile people up, including those who don't care much about Balenciaga. Twitter had Balenciaga trending for three days straight after the accusations began. 
Regardless of the controversies caused by the fashion house, they had the world's eyes on them, although for negative reasons.We might be living in an era where fashion publicity has gone a tad too far.