Fall Trends That Double As Self Care
5 fall trends to make sure you always look and feel the bomb!
Let's be real, fashion isn't always the most comfortable; stiletto heels, botox, fake eyelashes. There are lots of things we do to look good that don't always feel so good. But these 5 Fall Fashion Trends actually do both! So, check out these fashion trends that double as self-care, because they will have you looking AND feeling good all fall!
1. Pumpkin Bath Bomb
Who doesn't love a good bath bomb? So, how about a festive fall-themed one to celebrate the season? Well, don't worry, cosmetic companies are way ahead of us! For example, Lush cosmetics features a pumpkin-themed bath bomb, full of all the fizzy, fun, and fall-themed self-care we want in our lives.
But the bath bomb doesn't just look good, it's made to make us feel good. The pumpkin powder softens skin, the cinnamon leaf oil is warming, and the lime oil adds a hint of zest to your life and your skin! Plus, it's totally affordable. Check out this fall trend that is taking over the charts, and our bathtubs.
Lush makes a great one as pictured, as does the Body Shop and several others. So, stock your bathroom with this fall-flavored self-care trend that will have you looking and feeling fresh all season.
2. Oversized Sweaters
Finally a fall fashion trend we can get behind! Goodbye constraining summer wear, hello comfy fall wardrobe. These oversized sweaters are here to stay and we could not be more thrilled. Cozying up in some fall designer fashion that actually feels good, is something we definitely can get excited about. These oversized sweaters are great with leggings, jeans, and even skirts.
They are chunky, knit, and oh so comfy. Not only do they feel soft on the skin, but they are also soft on the psyche, as loose-fitting, knit clothing can actually mimic the effects of a blanket for us. It can help us feel safe, comfortable, and relaxed, and that is something we could all use a little more of right now.
So, check out these oversized sweaters of luxury in stores of all kinds. We found this cutie in Forever 21 but they are truly everywhere, from Free People to Pacsun. Find your color, find your fit, and find your style because you are probably going to be needing several of these.
3. Organic Fall Scented Candles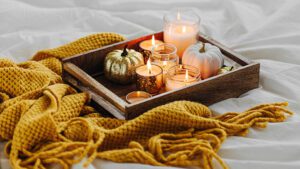 Fall is in the air and with these candles not only will it feel like it, but it will smell like it too! Fall-scented candles are always a trendy fall go-to, and when they are organically made, that's even better.
Also, aromatherapy is amazing for decreasing stress and increasing joy. They have proven aromatherapy cures all kinds of ills, everything from a stinky apartment to migraines. So, what better way to ring in the fall festivities than with a fancy-smelling apartment? Self-care really is the gift that keeps on giving and this fall-scented candle trend is exactly the kind we need this season. P.F. Candle Co has an awesome variety, including the 'Apple Picking' candle shown above. Voluspa also has some dreamy varieties.
Just follow your nose! But wherever your scent takes you, just make sure to peruse the ingredients list to make sure there are no pesky pesticides, parabens, added fragrances, or sulfates. We want to keep our self-care squeaky clean and organic candles, are exactly that.
4. Fuzzy Boots
Fuzzy boots are back! In our minds, they never fully left, but there was definitely a lull between The Hills days of Uggs and the boots making their comeback this fall. But, they are back and there are more fuzzy booted varieties than ever! Not only are they warm but they are very comfortable. We all know that women's footwear isn't always the most foot-friendly (stillettos, heeled boots and even tight-fitting ballet flats can be tough on the ol' toes), but these fuzzy boots are made to please.
There are a wide variety of colors, styles, and brands but one thing they all have in common is that they are sure to be seen all over this fall and winter season. They are definitely one fall trend we are here for. Fuzzy and fashion? Yes, please.
Brand-wise, there are the classic Ugg's, or the extra fuzzy Sorels as pictured above. Even Dr. Scholls and Birkenstock's are getting in on the action if you're looking for comfort that goes above and beyond.
5. Pumpkin Spice Lip Care
Pumpkin spice lattes are a fall staple, but pumpkin spice lip care? Now we've seen it all! Pumpkin spice lip care is making its debut and we are ready to wear it, loud and proud. Not only will it give you the perfect pucker for fall, it actually improves the health of your lips. Pumpkin is a major player in the self-care game because it is chock full of vitamins and this spicy little treat includes warm vanilla and cinnamon. The balm helps heal lips while highlighting their best qualities.
Because one thing we can guarantee that will not be on any fall trends list this year is chapped lips. It's not a good look, babe. But plump, pumpkin spice lips? Now that's more like it! Plus Thrive Causemetics as pictured above, is completely cruelty-free and vegan and they make sure their products have no parabens and no problems.
Fall trends that double as self-care? Tell us we are dreaming! But no, as we've seen even though those products may make you look and feel dreamy, they are oh so real. Check them out today and make your next fall fashion trend, self-care, because it truly never goes out of style.