Fresh Water for Flowers by Valérie Perrin is a classic example of why you should never judge a book by its cover
By looking at the soft focus black and white photo with pink details on the sleeve, you would think that Fresh Water For Flowers would be a cheesy hopeless romantic novel – a genre many tend to avoid. But, if you decide to pick it up, you'll realise what a great novel it is. 
The protagonist is Violette Toussaint, a middle-aged woman who works as a cemetery guardian in the French village of Brancion-en-Chalon. She comes across as charming and discreet: she lives alone in the cemetery she lovingly takes care of and welcomes with a smile and a kind word whoever passes by, listening to their stories and taking notes of the funerals she attends; the only thing the locals know about her is that her husband has inexplicably disappeared but, apart from that, her life is shrouded in mystery. 
As the readers will soon find out, Violette's life has been marked by delusion and loneliness. Growing up unstably as a foster child with various families, she met her future husband Philippe Toussaint with whom she fell desperately in love and soon had a daughter with – Léonine. But, the apparent passion and happiness are destined to fade when Philippe's true nature emerges and an excruciating tragedy makes everything else feel meaningless.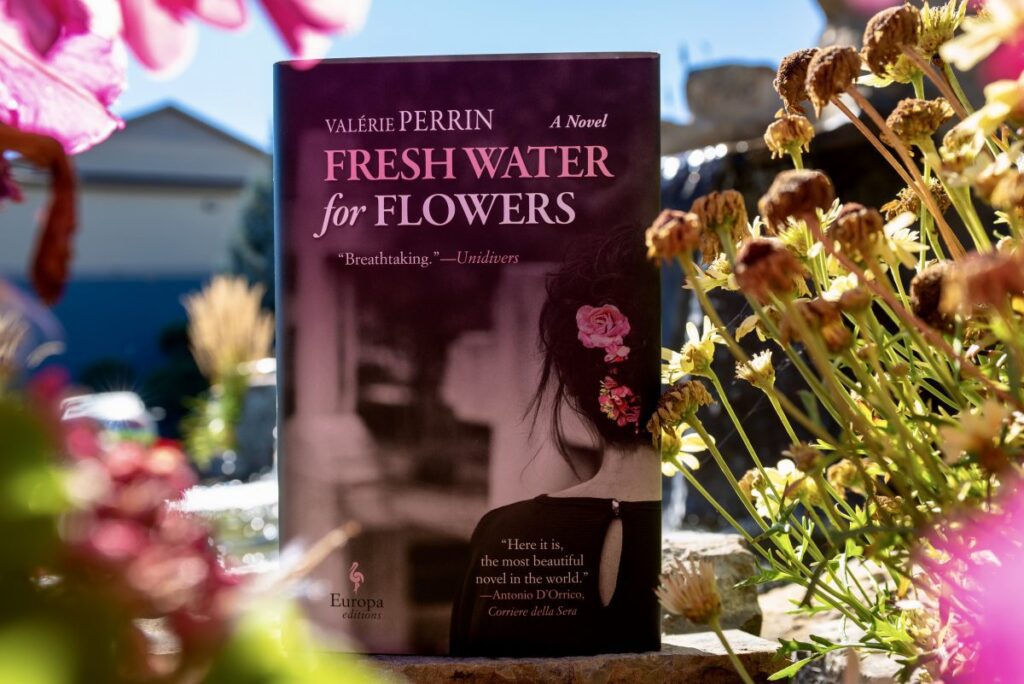 Violette finds some sort of peace and balance when she starts working at the cemetery, where she can cover her own pain with the grief of strangers and begin a new life in another village. Her house is beautifully described as a cosy shelter, with liquors and food always ready for her guests, books, dolls and the smell of the flowers she cultivates in the back garden. This idyllic everyday life is interrupted by the visit of a policeman from Marseille asking about an unknown man his mother expressed the desire to be buried with: from this moment on, Violette is forced to go back to the memories she desperately tried to make quiet, and open up her heart to love. 
The story is told from the protagonist's perspective: each chapter is a constant back and forth between past and present until they align, creating a complete picture of Violette's life. Valérie Perrin's writing is fluid and captivating, with suspense as a core characteristic: the writer progressively unveils details and plot twists, which leave the reader on the edge of their seat until the very last page. Throughout the read, a vast range of emotions is felt: the tone can go from warmth and delight to sadness and anger in a matter of a few pages. An honourable mention has to go also to the mastery Perrin shapes the psychological aspect of the book with: each character has depth and complexity, and big importance is given to the social, familiar and emotional background that influences every person's set of behaviours; the reader is encouraged to explore and understand what leads the characters to make certain decisions through a neutral, non-judgemental narration, and to form their own opinion. Violette and Philippe in particular are probably the most intricate: Violette has a turbulent past nobody can suspect of given her modest and caring personality, while Philippe is a controversial character whose disgustingly selfish parents – willing or not – irremediably ruined the Toussaints' life; on the other hand, the lighter moments of the novel are the ones that take place in the present, where we meet characters like the charming policeman Julien Seul and wholesome pallbearers Nono, Gaston and Elvis. But probably the most memorable of them all is Sasha, Violette's predecessor at the cemetery, who – with his immeasurable kindness – becomes a key, fatherly figure in helping her deal with her grief and find joy in life again. 
Fresh water for flowers is a pleasantly unexpected gem for anybody who loves an engaging novel with well-written characters, unusual settings, an exquisite and well-balanced mixture of drama, comfort, romance and mystery, and where the themes of love and grief are dealt with extreme delicacy and compassion. A strongly recommended read.