A woman has been arrested in Edinburgh for holding an anti-royalist sign that read 'abolish the monarchy'
The arrest of a woman in Edinburgh has sparked outrage up and down the country. Following the recent death of Queen Elizabeth II, thousands lined the streets to see the Queen's coffin arrive in Edinburgh. One woman also took to the streets armed with an anti-royalist sign that said 'F**k Imperialism, abolish the monarchy'. She was very quickly taken away by officers and arrested outside St Giles' Cathedral, where the Queen's coffin will be held before arriving in London.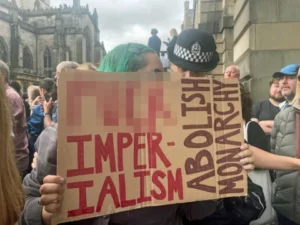 Following her arrest, some members of the crowd started to applaud whilst others stated their anger towards the police and their actions. One man shouted "Let her go! It's free speech." Others were heard saying "Have some respect".
All this woman did was hold up a sign. Whilst Piers Morgan and others from the GB News brigade often go on about the importance of free speech and how we should all be entitled to say what we want and express how we feel, they certainly don't like it when someone expresses a view they don't agree with. There is a strong sense of society slipping away toward an undemocratic state. Earlier this week, members of the metropolitan police shot and killed Chris Kaba in South London, a young black man who they believed to be armed but wasn't. And now, they're arresting people for expressing views that some may not agree with.
This week we've had to come to terms with two unelected officials; King Charles III and new Prime minister Liz Truss, neither of whom have been chosen by the public. The death of the Queen has triggered a variety of responses, but as we move towards an undemocratic state, we must keep our eyes open. All news and media outlets are flooded with stories about the monarchy which the government will use to their advantage to pass laws that are not just disagreeable but quite frankly dangerous.
Regardless of your views on the monarchy, we must keep alert and ensure we don't turn into an undemocratic police state.