My Chemical Romance: Live Review
The reunited emo legends still rock
On May 28th, Cardiff hosted New Jersey rock giants My Chemical Romance on the penultimate date of the UK leg of their tour. Getting to this moment for many fans was not straightforward. MCR breaking up in 2013 meant that fans who were too young or who missed them the first time round had to resign any hope of seeing them live in concert. Then, their announcement in 2019 that they would be touring again sent ripples of excitement through the fanbase, shows sold out at a rate of knots and the speculation and adulation across social media was rife. That was until COVID-19 happened and fans would have to wait for an indeterminate period of time before dates could be rescheduled.
The ones assembled here at Sophia Gardens cricket ground are brimming with anticipation. Starcrawler and Lost Alone kick off the night, with post-hardcore group, Funeral For A Friend being the main support act. Being practically a local band, Funeral For a Friend were warmly received by the crowd, but even their lead singer Matthew Davies-Kreye acknowledged that the crowd were saving some of their enthusiasm for the headliners.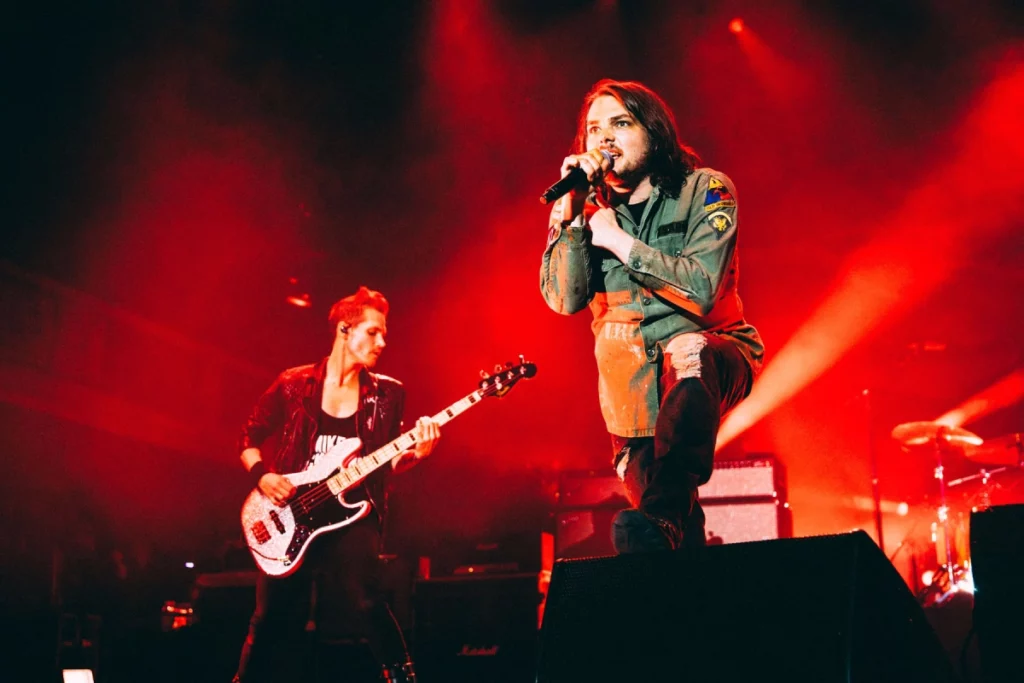 With the support acts finished, a low, constant static begins to fill the air. Over five minutes or so, this white noise steadily builds and with it, the sense of painful anticipation until Frank Iero, Mikey Way, Ray Toro and Gerard Way take to the stage and the static seamlessly transitions into 'Foundations of Decay', their first new music in 8 years.
The set was comparatively stripped back in terms of theatrics. No white suits or flags were present on this evening, only a painted backdrop of a building in ruins, which perhaps served as a nod to 9/11, the tragic event that instigated the creation of the band. Whether the lack of theatricality is a good thing or not depends on the individual, but it didn't seem to make a difference to the assembled swath of black t-shirts and tattoos that made up the audience. One thing it did show was that the music really does speak for itself.
When Gerard first appears on stage he is dressed less like a rock icon and more like a dad who's just dropped the kids off at school. Hiding behind hair that would make Robert Smith proud, you couldn't be quite sure what to expect. Some corners of the internet bemoaned a band that didn't interact with the audience, but this could not be any further from the truth. As well as the heart-wrenching vocals of hits like 'Helena' to the pop-punk sugar rush of 'Na na na na', Way's New Jersey rasp could be heard giggling and joking with the audience between songs. His genuine affection and concern for the fans was apparent and it was reflected back at him in kind.
One thing listeners might not fully appreciate until they see My Chemical Romance live is what a phenomenal guitarist Ray Toro is. Seeing him shred during a solo, his hair flaying out in all directions from the wind machine makes you appreciate how much of a straight-up rock star he is. The comparisons to Brian May are not unfounded in the slightest. A brief gesture of affection between Frank Iero and Gerard elicits knowing laughter from the crowd. Whilst Mikey Way is all business, Gerard is a theatre kid who has managed to make a career out of being just that. Even when he's not wearing any particular costume, he still seems to occasionally slip into a voice befitting a henchman in a Hammer horror, doing this to entertain himself as much as anyone else.
Then, the moment every single person in that crowd was waiting for finally happens. Towards the end of an evening that sailed by all too quickly, as the cheers momentarily subsided, a single G note rang out. 'Welcome to the Black Parade' is perhaps the only song that can be recognised from a single note, and it is rapturously received. Singing and bouncing along to that anthem, surrounded by thousands of devoted fans doing exactly the same borders on a spiritual experience. If there was a misstep, if you were absolutely forced to nit-pick, you might question not having this as the last song of the night. 'Sleep' and 'I'm Not Okay' are unquestionably great tracks, but they're a steep drop after the pinnacle of 'Black Parade'.
With the show drawn to a close, the band's six-year hiatus, combined with a nearly three-year wait due to Covid only underscored the fragility of the moment. It seems as though everyone understood that this may well be a once in a lifetime experience, and they were determined to savour every single second of it.
My Chemical Romance are back, and for the fans, that's a dream come true.