Sea of Thieves – Introduction to a Pirate's Life
Sea of Thieves – Introduction to a Pirate's Life
Ahoy, Matey! Welcome to the Sea of Thieves, a pirate-filled sea with minimally described rules designed by the same team behind Banjo Kazooie, Donkey Kong 64, and Battletoads.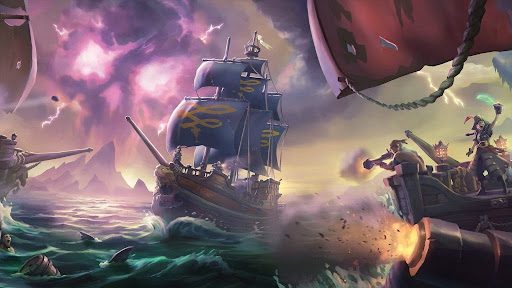 Image by Rare
Sea of Thieves is an exciting open-world high seas adventure with plenty of treasure hunting, skeleton murdering, and spectacular capers that combine PvE and PvP warfare. But there are a few things to consider before you set sail.
Here you will find a few beginner's tips along with the spicy details of the latest update, which brings epic characters from the Pirates of the Caribbean movies such as Jack Sparrow and Davy Jones.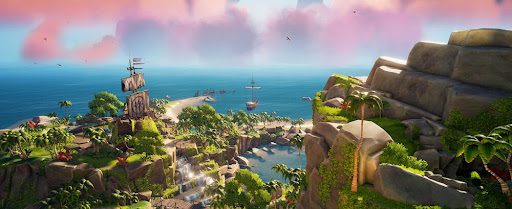 Location of the Maiden Voyage: Old Sailor's Isle (Image by Rare)
The Maiden Voyage
You'll embark on the Maiden Voyage once you've chosen your character. This is essentially a tutorial mission, and it will teach you everything you need to know about reading maps, firing weapons, cooking food and so on.
A lot of gold can be found lying around by the shipwreck at the top of the tutorial island. A little pool of water with a key right below the waterfall can be found above that ship.
When approaching the ship from the shore, you can take that key to the ship's right side. There is a little trap door inside the destroyed ship that you may unlock with the key, and inside you will find your treasure!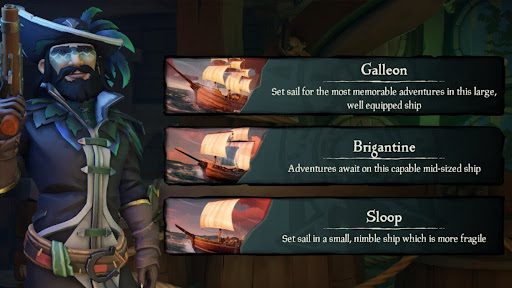 Image by Rare
Types of Ships and Ship combat
You can use three types of ships: the Sloop, the Brigantine, and the Galleon.
The Sloop is made for 1-2 players and is the easiest to manage.

The Brigantine is made for 2-3 players, relatively harder to manage but is more durable.

The Galleon is designed for 4 players and requires an active crew to manage different aspects of the ship. Maximum durability on this one.
Ship combat is tricky and requires a comprehensive guide, but the fundamentals are rather simple. While trying to sink their ship, keep your ship afloat.
Cannonballs will leave holes and other damage on your ship, which you will need to repair using wood. Water will enter your ship as a result of some of the damage, which will need to be bailed out, otherwise, you will eventually sink.
When fighting another ship, your cannons will usually be your first line of defence. You'll need to move your boat so that you can strike at the proper angle, which is easier said than done.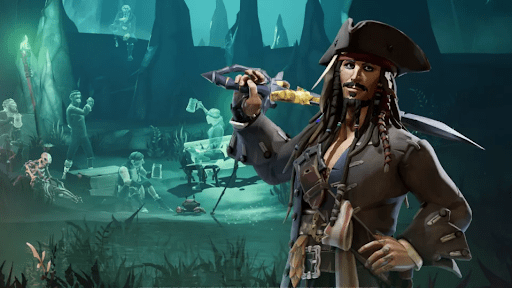 Image by Rare
A Pirate's Life: Most exciting update yet
Since its release, Sea of Thieves has become known for its Tall Tales, long journeys based on solving puzzles and learning about the game's non-player characters. The game's most recent addition, A Pirate's Life is set in this more guided, narrative-driven world.
The addition, which is based on Disney's Pirates of the Caribbean film property, offers new stories to discover that are both enjoyable for fans of the movie and the theme park ride that inspired them, as well as large, involved new Sea of Thieves areas to explore.
Five new Tall Tales stories feature Pirates of the Caribbean regular Jack Sparrow and his crew and are at the heart of A Pirate's Life. The movie protagonists have made their way into the strange and mystical video game realm, but Davy Jones, the mythical Pirates of the Caribbean villain, has pursued them there.
Going through those five stories, you'll be transported to the Sea of the Damned, a new area full of mysteries and secrets, as well as the Sunken Kingdom, a vibrant underwater region.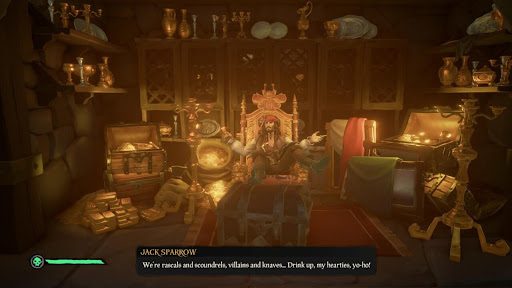 Image by Rare
Of course, since this is a Pirates of the Caribbean narrative, you'll be facing various movie characters for the majority of the time. The most common character is Jack Sparrow, who is a pretty entertaining addition to the game, providing a lot of humour and occasionally even assisting in combat against the many adversaries and creatures sent by Davy Jones.
Completing Sea of Thieves: A Pirate's Life with a full crew is satisfying, but solo players will find it much more so. While much of Sea of Thieves is best played in groups, lone players benefit greatly from the Cursed Captain and Jack Sparrow's assistance.
Sea of Thieves: A Pirate's Life is without a doubt one of the best Sea of Thieves expansions in recent memory. The crossover with Pirates of the Caribbean is a natural fit, as the two franchises appear to collaborate rather than compete.
The new opponents also seem right, adding some much-needed variety to the roster of monsters players will encounter both within and outside of Tall Tales.
With Sea of Thieves: A Pirate's Life, Rare has developed something special, and it will be exciting to see how these new elements lead to future expansion for the pirate-themed co-op.