Sustainable Fashion Series: SANS MATIN
Sustainable Fashion Series: SANS MATIN
SANS MATIN – the first designer Chapter Z is shining its sustainability spotlight on in our new series designed to help our readers shop wisely.
Many of us know that fast fashion comes at a hefty price beyond the one that we see on the tag. Approximately 20% of the wastewater worldwide is produced by the fast fashion industry, resulting in untreated water poisoning our oceans. Synthetic materials are used to lower the price of garments meaning the industry takes a lion's share (approximately 35%) of all microplastic pollution. 
If the environmental damage wasn't enough to make you think twice, the fast fashion industry exports garment production overseas to keep costs even lower. Many of the workers are paid poverty-inducing wages, forcing them to work excruciatingly long hours in order to earn enough to survive. This type of exploitation of people (mainly women) in countries such as India and Bangladesh helps big fashion brands increase their profit margin and ensures that workers won't take sick days or refuse work even if conditions are unsafe. 
Sustainability and championing the fair treatment of people from marginalised groups is something we take seriously at Chapter Z. Therefore, we bring you this series highlighting some of the best fashion brands that were created to right some of the wrongs of the fashion industry, through sourcing sustainable materials and ensuring their garment workers are compensated fairly for their incredibly skilful work. We have you covered from head to toe, skin to soul with some of the best brands that have sustainability, equity and justice at the heart of what they do.
The first brand to be highlighted in our sustainability series is SANS MATIN, the ethical shoe brand taking a step in the right direction. Cousins Lockie and Charly came up with the idea after an unfortunate incident involving a tumble dryer and a pair of trainers.
At its core, SANS MATIN has 3 pillars: ethical, charitable, and environmental practices. 2% of all revenue from the UK business goes directly to their partner charity Children Change Colombia (CCC), giving back to the Medellin community where all their shoes are handcrafted by skilled workers. Through the CCC partnership, SANS MATIN aids children who have been displaced from their homes, experienced violence, and whose lives and futures are in danger.
This is a brand that puts the lives of its workers and their community at the heart of the business. This meant that in light of the COVID-19 pandemic where many organisations struggled to adapt fast enough, they quickly changed the payment structuring to their ateliers which helped avoid redundancies and ensured safe and controlled environments for the production of SANS MATIN footwear.
They're well on their way to achieving targets of being carbon positive. The packaging is made from recycled cardboard and sugar cane, and their shoe bags are made from PET (recycled plastic bottles) and recycled cotton. Their natural tree rubber outsoles are sustainably sourced and produced in a closed-loop system, where all surplus rubber is repurposed into truck tires.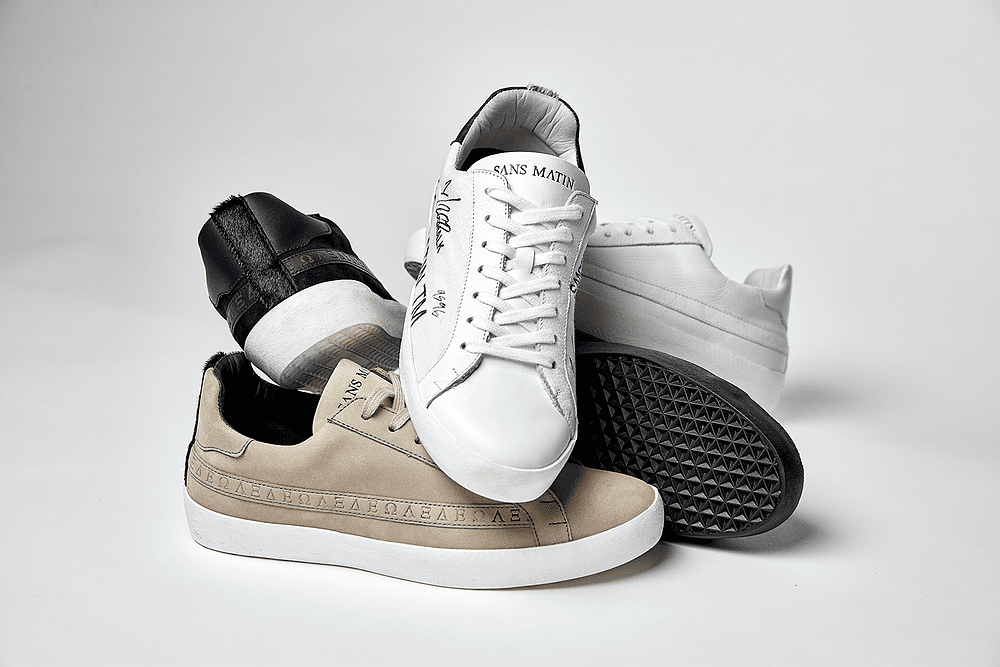 SANS MATIN; Intelligent Contemporary Footwear
They offer a system called SMCycle, where our consumers in the UK can return their old pair of SANS MATIN shoes to be recycled once they have completed their lifecycle. If the shoes are in good enough condition, they will be donated to charities around the world, and if they're unwearable, they're repurposed into the likes of carpet underlay and car seat stuffing! Finally, In the US, 2% of all revenue is donated to organizations that are replanting the Amazon rainforest with indigenous species previously decimated through deforestation.
This is a brand that has something to say and they outline three simple things that communities/society/politicians can do to help:
Ethical: Increased regulation in the transparency of companies' supply chains.

Charitable: Increase incentives for companies to focus more on their Corporate Social Responsibilities.

Environmental: Companies and not just cities/countries should be setting carbon target goals by 2030.
Please visit their SANS MATIN store here and have a look around. You can also find them on social media, Insta: @sansmatin Facebook: SANS MATIN