Tom Daley: An LGBTQ+ Role Model For Us All
Tom Daley: An LGBTQ+ Role Model For Us All
Tom Daley sparks national joy as he and diving partner Matty Lee take home gold in the synchronised 10m platform competition at Tokyo 2020 Olympics.
When a confident young Tom Daley told the UK press at the tender age of 11 that he was going to achieve a gold Olympic medal, we were all rooting for him. Fast becoming an icon of British determination to succeed during the 2012 London Olympic games, Tom won our hearts and had us glued to the television screen during the sporting event every four years.
Despite not nabbing the gold during the 2012 games, during which he secured a bronze medal, and painfully 'crashing out' of the 2016 Rio de Janeiro games, Tom has finally achieved the goal of his youth. 16 years on from his pledge, alongside diving partner Matty Lee, Tom today won a synchronised 10m platform Olympic gold medal at Tokyo 2020.
In a widely circulated image, tears are seen welling in Tom's eyes as he accepted his award in a moment that he and the British nation have been waiting for for over a decade. The Plymouth native defeated the Chinese duo by a narrow margin, racking up just 1.23 points more than the current World Champions over 6 rounds. Russian divers came next in third place.
Telling ITV news, Tom's friend and former British Olympic diver Tonia Couch says, "I was on the edge of my seat as you can imagine. It was just so fantastic to watch.
"Unfortunately for Tom he's won every single gold medal there is apart from the Olympic Games so today he finally got his dream."
Tom himself seemed to be in shock in Japan, telling the BBC, "I mean to finally have this gold medal around my neck after so many – I mean I've been diving now for 20 years and this is my fourth Olympic Games and lots of people would probably have counted me out of this Olympics being the older person but I'm in the best shape physically and mentally.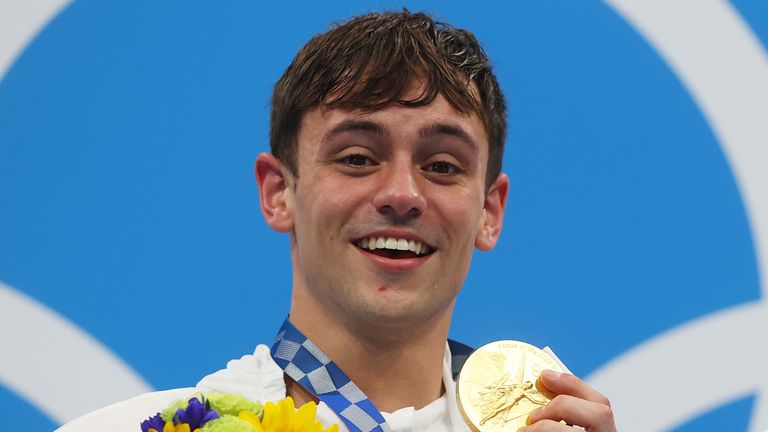 Tom Daley collecting Olympic gold // BBC
"With the support of Matty coming into this competition and the way that we've been preparing, I think we've just had that unstoppable mentality this year and this is the first year that I've ever been able to think like that – that we are the ones to beat."
As a role model for LGBTQ+ people in Britain and across the world, Tom gave a message to all the young queer people out there. He said: "I hope that any young LGBTQ+ person out there can see that no matter how alone you feel right now, you are not alone and that you can achieve anything and there is a whole lot of your chosen family out here ready to support you.
"I feel incredibly proud to say that I am a gay man and also an Olympic champion.
"I feel very empowered by that because when I was younger I thought that I was never going to be anything or achieve anything because of who I was and to be an Olympic champion now shows that you can achieve anything."
[nectar_video_player_self_hosted video_webm="https://chapterzmagazine.com/wp-content/uploads/2021/07/RPReplay-Final1627319840.mp4.mp4″ video_mp4="https://chapterzmagazine.com/wp-content/uploads/2021/07/RPReplay-Final1627319840.mp4.mp4″ video_image="7670″ border_radius="none" box_shadow="none"]
Dustin Lance Black, Tom's husband, reacting to the win with Tom's mother // Instagram