Modest Fashion In The Month Of Ramadan: #inspiregood Panel Discussion
Modest Fashion In The Month Of Ramadan: #inspiregood Panel Discussion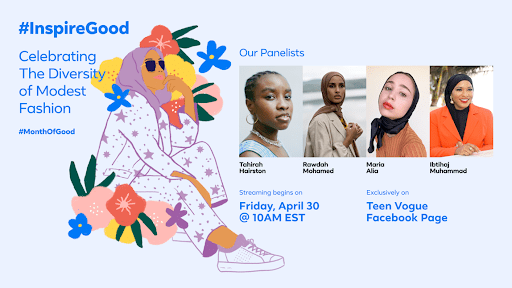 On the 30th April 2021, three inspiring women sat down to discuss all things modest fashion. Tahirah Hairston, Teen Vogue's Director of Fashion and Beauty hosts a panel with three big names in the modest fashion industry: Rawdah Mohamed, a model featured in publications such as Vogue, Elle and I-D, Maria Alia, a model and content creator and Ibtihaj Muhammad, an author, activist, entrepreneur, and Olympic Bronze medallist. 
In an intimate half hour talk, they examined and explained how modest fashion has shaped their lives and the importance fashion had in relation to their identity. Modest fashion boosted in popularity in 2016, when Turkey held its first ever Fashion Week dedicated solely to modest fashion.
Similar big waves were made in the New York Fashion Week, 2016, when designer Anniesa Hasibuan debuted a stunning modest fashion collection with models adorned in corresponding hijabs.
As social media gained traction and became a crucial part of our everyday lives, figures like Muhammad, Alia and Mohammad took to their platforms to promote positivity towards modest fashion. They soon amassed a following spanning thousands and have since blossomed into the inspirational and powerful women we see today. 
Modest fashion is mostly associated with people who wear the hijab, but really it's about covering up according to Islamic principles, whether you wear a hijab or not. 
The month of Ramadan is a holy time for Muslims across the globe making now the perfect time to reflect back on Islamic values and examine how they collide within our society. Hairston's panellists immediately discuss how Ramadan is a month about togetherness and family, and how the month itself accentuates an appreciation of something bigger than ourselves.
But the pandemic left things in disarray, shaken against the norm – which means adaptability is now required. Regarding this, Mohamed mentions how this time could be perfect to revisit your spiritual side and reconnect with yourself, if you can't be with family, you can learn how to be with yourself.
The panel delves deeper into explaining how the modest fashion movement parallels a sanctuary, as social media is a gateway to find and relate to other people who love fashion, yet had to invoke a sense of creativity in their outfits to adhere to their personal values of modesty. All three panellists describe how social media has been paramount in finding their "tribe". 
But religion is a very personal thing, and as the hijab has been banned in France for under 18's, the panel also delved further to discuss politics and the crisis we face as women. 
Throughout the discussion it is repeatedly emphasised is how the power of choice liberates us to be more in sync to our inner selves. Just because someone observes Islamic values, does not mean their choice should be snatched from them or demonised in the media.
It is clear to see how much modest fashion resonates with them, and how it encourages them to divulge in their self-identity without sacrificing their personal values. Fashion is a statement, an art into how we view ourselves against the massive backdrop of the world, so having positive representation from women like Mohamed, Alia and Muhammad is vital. 
This informative discussion reveals an intimate glimpse into how fashion is so much more than just clothes, it's how fashion reflects our ideals and who we wish to share it with.
All three panellists began their journey with the hope of giving back to the community and inspire women and girls to be proud of who they are, to reiterate the importance of body positivity and how, especially for young Muslim girls, fashion is a way to find out who you are. They achieved this and more, becoming a signal to every Muslim Woman out there: you are not alone.