Astrology for the Month of May: "We're Feeling Flirty"
Astrology for the Month of May: "We're Feeling Flirty"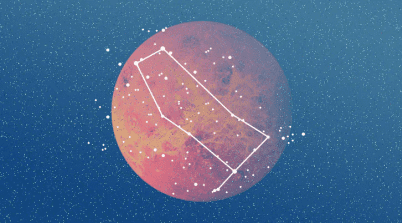 8th of May
:
Venus in Gemini
The plant of love and beauty is in the chattiest zodiac sign. We are feeling flirtatious and here to have fun. Text that crush, shoot your shot and connect with your loved ones. Gemini is a sign that can converse and mingle within different circles with grace and ease. Your words are powerful tools to bring about the love and kindness you want to see in the world, look to your community and the wider collective to see where your voice could be of service.
11th of May: New Moon in Taurus
Not to pick favourites, but I do love a new moon. It is a potent time in the sky, where the sun and moon sit opposite from
one another. This brings in a new lunar cycle and is your time to call in and manifest new beginnings and opportunities. Take a moment today to get quiet and see what comes to the surface. Plant those seeds of intention on the night of the new moon looking to the areas of money, pleasure and security.
12th of May: Mercury-Saturn Trine
The planet of communication trines the planet of responsibility. Time to reflect and adjust your process and routines, would your future self be happy with how you delegate your time and energy? Look to where you can improve and better align yourself for success.
13th of May
:
Jupiter Enters Pisces
…and is here for a good time! Jupiter the planet of expansion, luck and abundance is in Pisces the beautiful sensitive zodiac who flows between the physical and spiritual world with ease. It is time to tap into your creative side and look at where you can bring more imagination and creativity into your career, love and family. Have an idea that keeps popping its head up? Now is the time, Jupiter is here until the 28th of July and wants you to create.
17th of May: Sun-Pluto Trine
A day to take leadership and channel your inner boss. Pluto the lord of the underworld is asking us to get rid of the clutter, weather that is the clutter in your room or the clutter in your head.
20th of May: Venus Trines Saturn
Time to take a look at the relationships in your life- personal and professional. If they have been a little rocky today is a good day to talk it out and find common ground and solutions. It is also a positive day for making long term investments.
20th of May: Gemini Season is Here!
Moving out of the grounded Taurus season, today marks the first day of Gemini season which runs until the 20th of June. Gemini is an air sign and is the curious communicator, this season invites us to build relationships and reach out to others to collaborate and connect on ideas, projects and plans manifested during Aries season.
21st of May: Sun Squares Jupiter joining Venus and Mercury
Communication flows however do be aware of who you give your time and energy to. Are you an open book? Check in with your boundaries and maintain them – it's a fundamental act of self care.
26th of May: Total Lunar Eclipse
It is always a beautiful sight to see the sky light up with the full moon. The full moon illuminates the sky as well as different parts of ourselves, even the darkest parts we hide away. Full moons are an encouraging time to release and let go of what no longer serves. Like clearing out your closet to make room for some new outfits. Releasing is a major part of manifesting with the moon. With Jupiter still in Pisces be aware of people pleasing or over promising around this time. Today also marks the first eclipse of 2021! Buckle up as eclipses are a portal for CHANGE. Time is an illusion as things tend to speed up, the universe is giving you that green light and it's all go, go, go. Some astrology 101 do not charge crystals under the eclipse. The eclipse is a little wild card energy (in the best way) but we do not want to charge our crystals with this energy.
29th of May:
Mercury Retrograde
Retrogrades occur when the planet in question appears to orbit backwards. Mercury Retrograde can get a bad rep out of all the planets as it retrogrades 3-4 times a year, so best learn to work with the retrogrades rather than against them. Just how eclipses like to speed things up we need retrogrades to slow down. Read that again, slow down, in our high paced society we are used to moving, progressing and always doing. We can find it frustrating when things take longer than expected. The planet Mercury rules communication so double check your texts and emails, expect technical glitches and brace yourself for that ex to text asking for a second chance. Retrogrades are a time to reflect and revisit where our path is heading and to tie up any loose ends- projects and plans that took a backseat during the month. Mercury is in retrograde until June 22nd.