Young Designer Spotlight: CREATURE FEATUR3
Young Designer Spotlight: CREATURE FEATUR3
Fashion has long been one of the most versatile and beautiful creative outlets for self-expression. When this is coupled with the innate need for queerness to be manifested and visually presented in the face of oppression, it's no surprise that fashion garments can be tools to enact freedom for queer and questioning people.
In this line of thinking, we spoke to upcoming designer Anne Fleur and their brand CREATURE FEATUR3. The label's popular hood's are a wholly unique and otherworldly blend of costume accessory and high-fashion. Being able to don a piece of clothing that transports you to a visual realm that sits between human and animal is a magical thing for people who don't always feel comfortable in their own skin. We spoke to them about how their non-binary identity influenced their designs and how their hoods help people to become their authentic selves.
Tell us a bit about you!
Sure! I was a Dutch girl born and raised in Portugal. Now I am a They/Them living my best life in London. Growing up in Faro was difficult – I always felt different to everyone around me. I had beautiful friends but never found anyone that understood me. 
When I was younger, I had no idea being gay was a thing, let alone being non-binary. My whole knowledge of gay culture was very limited, so the first part of my life was filled with a lot of self-hatred and questions of identity. I never really came to understand myself till my second year living in London, at the age of 20, when I realised how difficult and long my journey had been. I'm glad I got here with the friends and family I have made and come to love myself a little more.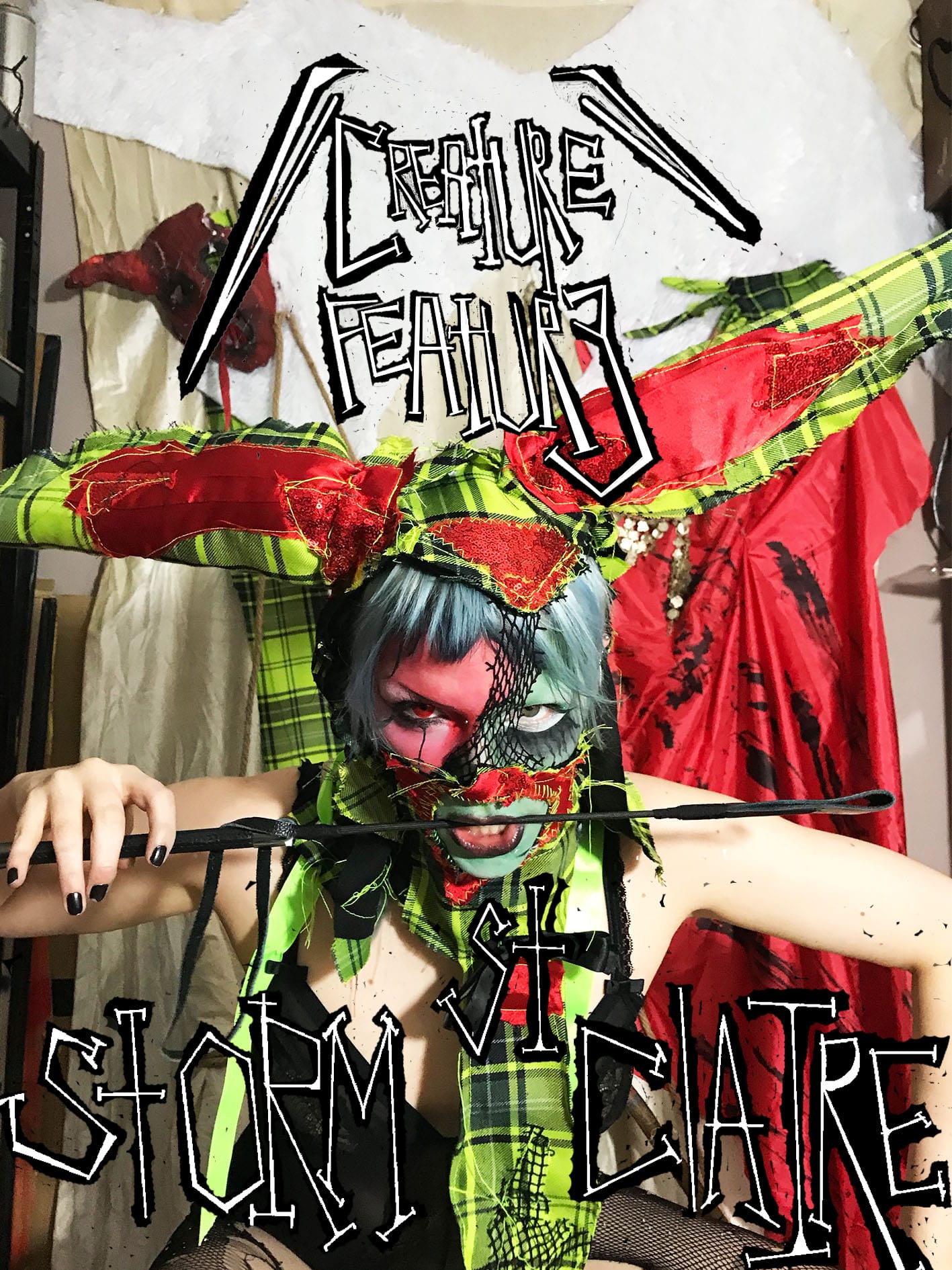 What is your background in fashion?
My background in fashion comes from costume design! My whole life I put on costumes and played around and transformed into different characters. I loved that moment of escapism from the real world, but I guess I took it more seriously as I got to university. 
I went to CSM to study performance design and practice. From there I constructed plays, dances, films and performance art pieces and with that I made the costumes. So it was never fashion and I still don't see what I do as fashion – it's a costume that allows you to transform and become something else. That's what I used to tell myself when I was younger too, as I cried for my mum not to put me in a dress.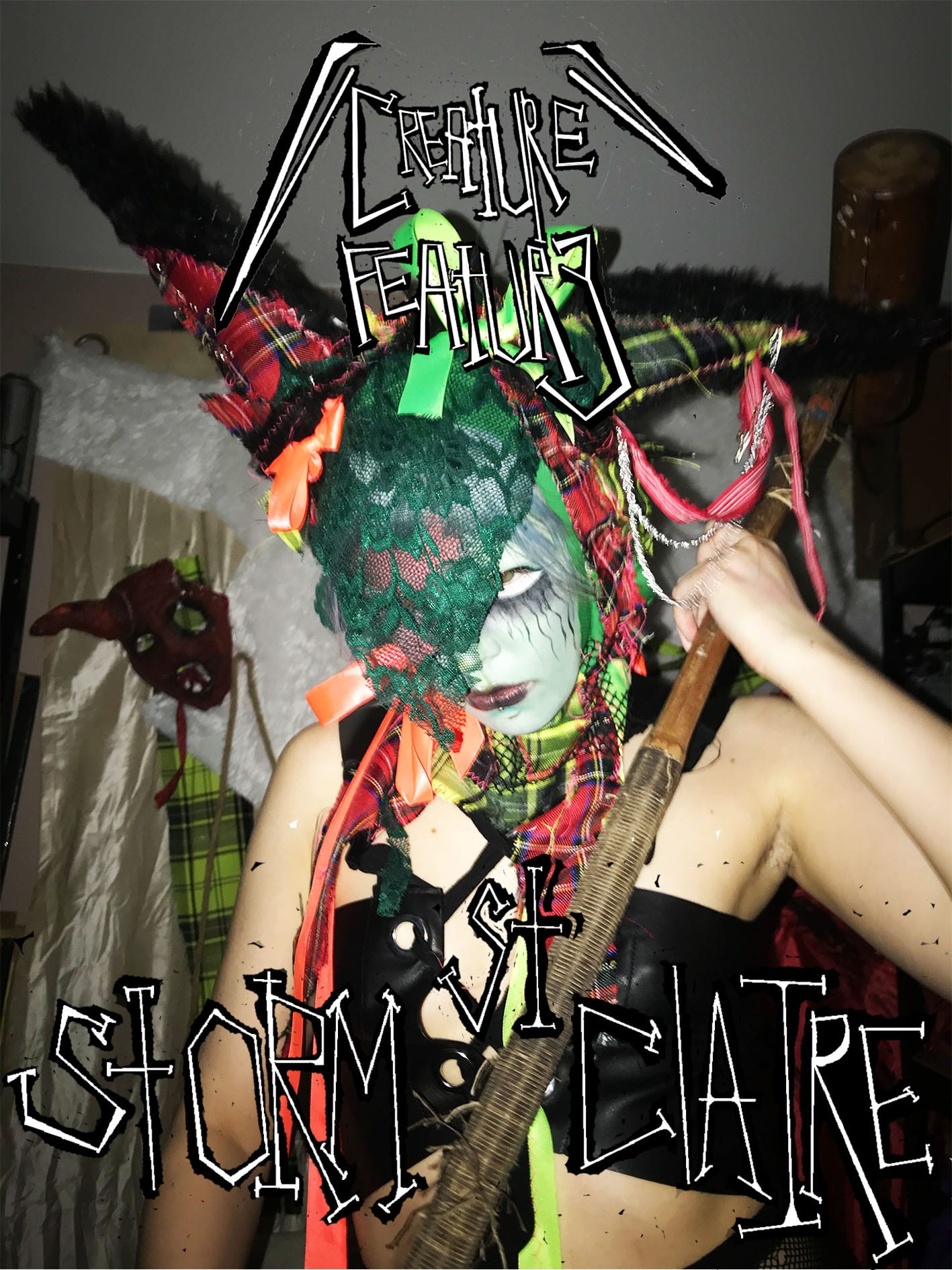 What inspired you to start your own brand?
The reason this brand exists is because my best friend and creative partner, Rosie Gearty, and I were very short on money before our final big theatre space show at CSM. So I decided that I was going to sell these headpieces to make the money we needed to put on our best show yet!
I used all of the costume store materials and was selling these pieces for only £5. Then I guess it has grown ever since, which I am very grateful for as it means I get to live in London where I feel most myself. I guess that's my biggest motivation to keep it going right now, so that I can live in London and carry on doing what I love.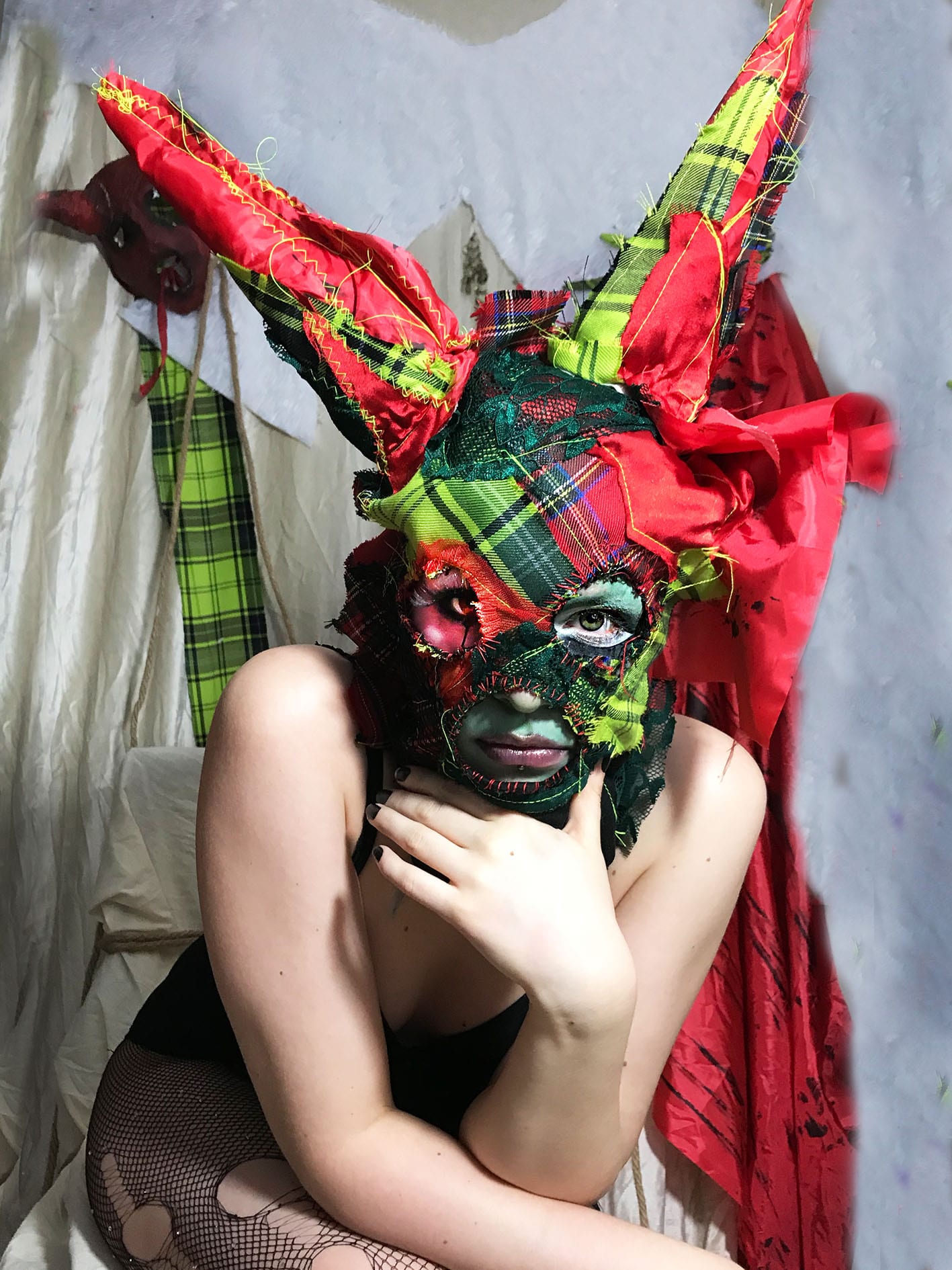 What is the main ethos behind CREATURE FEATUR3?
CREATURE FEATUR3's ethos is no matter who the hell you are, you are accepted and welcomed to be a god damn creature. I really mean that – I take time out to talk to people that come to me and sometimes we talk about more than just the hoods. People tell me about how these hoods make them happy in such a gloomy time, or that it helped them express themselves. This makes me so happy and makes it all so much more worthwhile.
How do you construct your garments?
The way that I construct my garments is a SECRET, haha! Ah, but what I can tell you is that a lot of time and TLC goes into each one and it's all very free spirited within the making process. Each piece is one of a kind, so you will never wear the same piece as someone else.
What are you currently working on?
I am currently working on a couple of things. I have my website out today with Storm St Claire! I am working on making garments for some drag queens like Ash Kenazi which are going to be big! I also have a new collection that is going to be a BIGGER and more high fashion spectrum, transforming objects to go on your head that don't usually belong there.
Where do you see the brand going?
I see CREATURE FEATUR3 branching out into different types of garments as it is already beginning too. I see high fashion magazines with this new collection I am working on! But I see versatility with what CREATURE FEATUR3 is, now it can't disappear, only expand and grow and blossom. This brand has existed for nearly a year now and I can't wait to see what takes place in another year! I have just created a website swell whichl is also being released today, so there will be a lot more pieces released in the near future.