RuPaul's Drag Race UK – Season 2, Episode 2
[adbutler zone_id="453471″]
[adbutler zone_id="453119″]
RuPaul's Drag Race UK – Season 2, Episode 2
Thursdays have already developed into a new ritual: avoid social media from 7 o'clock, in case, inevitably, we start late and need to avoid spoilers, then settle down in front of the TV for Drag Race UK. Despite the endless previews on Instagram, it's almost impossible to know exactly what to expect. This week saw the British queens perform in the premiere of Rats: The Rusical (Live!) — keep in mind that this was filmed when the film version of Cats loomed large in the cultural consciousness, before being eclipsed by, well, the catastrophes of 2020. 
First, though, was the rather bizarre mini-challenge that saw the competitors head to the polls to cast their ballots and elect four positions: Secretary of Shade, who throws the most shade, Trade Minister, the hottest out of drag, Leader of the House of Lording It Up, a.k.a. cockiest queen, and Baroness Basic, "need I say more?" It was a fun barometer to judge how the queens saw each other. It stirred up some drama — with Tia Kofi elected Baroness Basic, which — surprise! — put her in the enviable position of dishing out the roles for Rats. 
What followed was, in short, utter chaos. Asttina got the biggest role, following her win last week, and Veronica, after much debate, got the big solo as Evita. Rehearsals were challenging at times, especially as many of the queens professed to not being strong singers. The key, though, as with many Drag Race challenges, is not so much in innate talent but in confidence and selling it. Lawrence had a bad wobble, struggling with both the vocals and the choreography, while Veronica, who boasts fifteen years of musical theatre experience, sailed through rehearsals with ease.
Cut to the workroom, where we had an awkward conversation between Tayce and A'Whora — there's some sexual tension and an alleged backstory there. Cherry Valentine got into depth about her experience growing up in a traveller community, where being gay wasn't even considered, let alone accepted. As a mental health nurse and a drag queen, they've gone a vastly different route to what was expected — but without being alienated from family, even if there's no talking about drag and even being gay. It was a really heartwarming moment, a moment of representation we're not used to seeing on British television, certainly without an element of stereotype or prejudice.
Rats: The Rusical (Live!) was everything you might expect and oh so much more. Whoever wrote the show — which was surprisingly complex, chaotic and phenomenally enjoyable — deserves more credit! Bimini and A'Whora were certainly my favourite pairing, but Veronica stole the show. Tia and Ginny's parody of Memories, Flashbacks, was great. Sister, Cherry and Lawrence's number fell a bit flat, with weaker vocals and lacking in confidence and polish.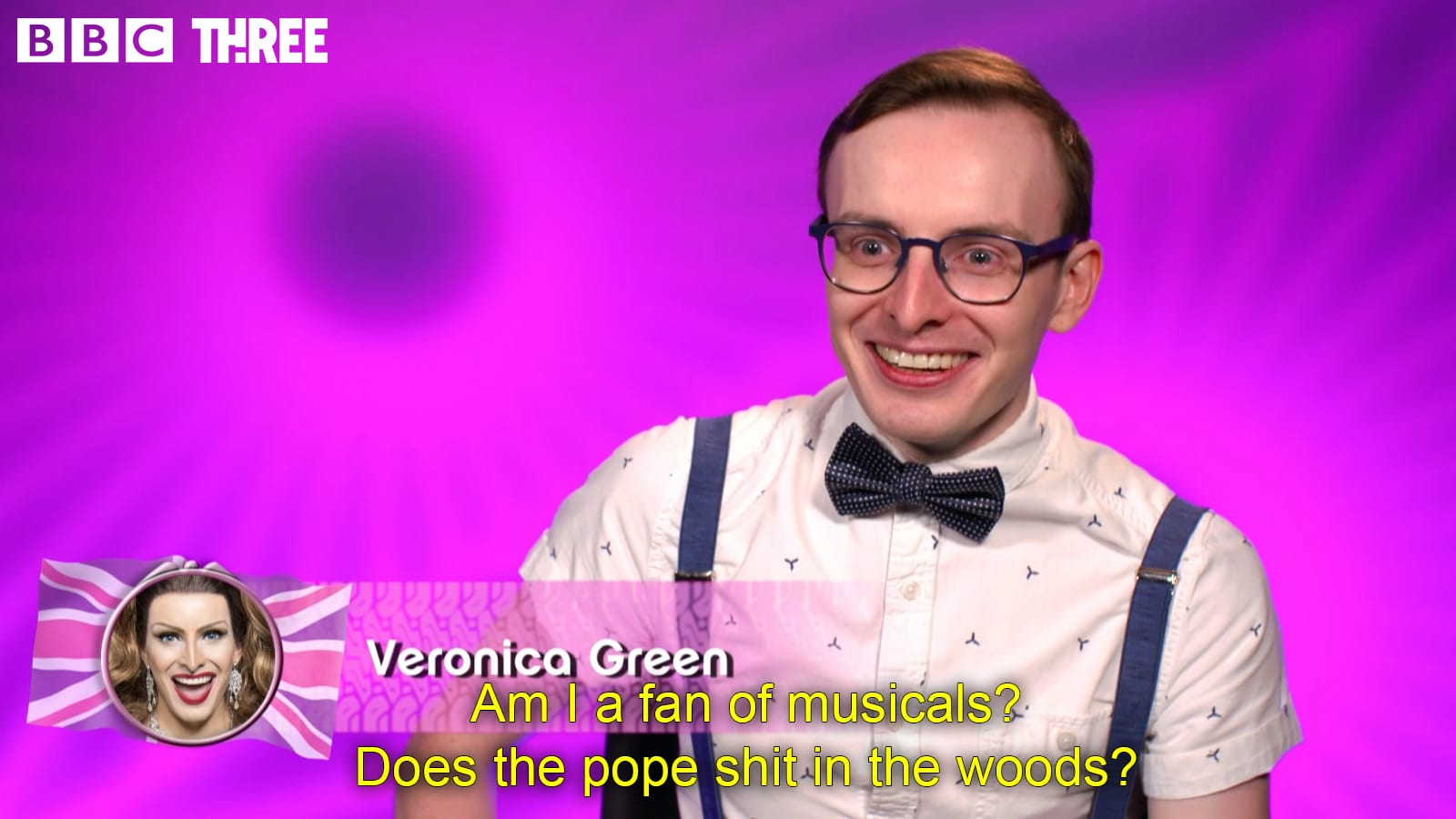 The runway was Surprise Surprise — not a Cilla Black homage, unfortunately, but an opportunity for a big outfit reveal of some sort, a firm favourite of the Drag Race runway. Some were more conceptual — Bimini attempted to pop paint-filled balloons onto a canvas corset, but it didn't quite work. Veronica, this week's winner, was next-level: she emerged as an eerie, uncanny housewife, complete with a tray of cookies, then dropped her dress to reveal a robot underneath. It was camp, quirky, conceptual and delivered with total conviction — a worthy winner who shone in both halves of the episode.
I tend to find the first few weeks when a number of the queens are deemed safe and therefore receive no feedback, quite frustrating, I want to know what the judges had to say about Sister's suburban housewife turned dominatrix, or Ginny's incredibly surprising reveal.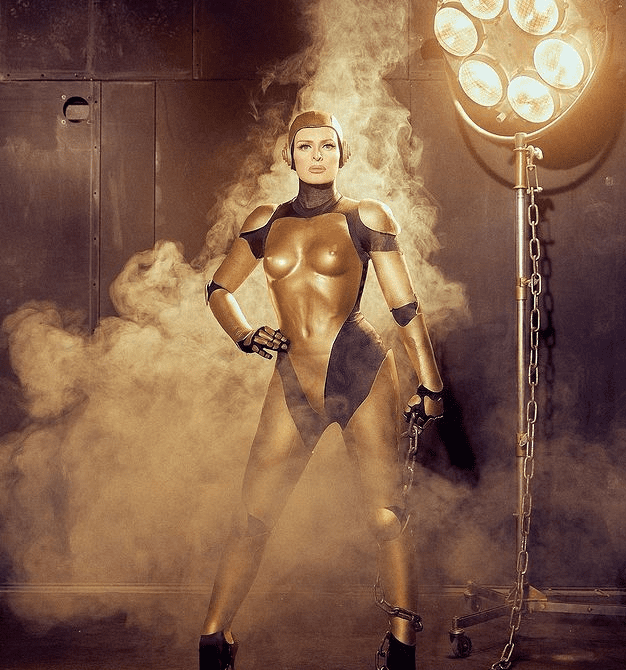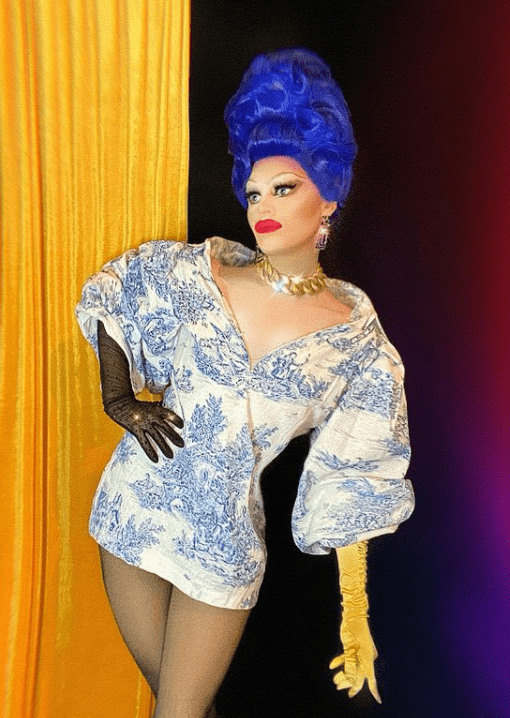 In the end, it was Cherry versus Tayce in the lip sync. The song was Memories — a tough song to perform to, with no opportunities for stunts or tricks — and Tayce won, with a more dynamic and emotionally raw performance that left A'Whora and guest judge Sheridan Smith teary-eyed. It was sad to see Cherry go, she definitely had a lot more to offer, but them's the rules.
Next week sees the first sewing challenge of the season, which always serves to sort the creative and confident wheat from the sewing averse chaff.
Louis Shankar will be summing up each episode and sharing their thoughts throughout the season. 
Images from RuPaul's Drag Race UK, Veronica Green & Sister Sister