Fashion East Becomes Fashion Central
These 4 Designers Made Fashion East 'Fashion Central' For Us
F

ashion East, once again, chose a group of four young designers with incredibly powerful, innovative and authentic concepts and voices to present their collections. Fashion East, a project founded by Lulu Kennedy 20 years ago, celebrated its 20th anniversary with truly amazing fashion. Maximilian Davis, Goom Heo, Nensi Dojaka and Saul Nash presented their collections in short film format, at a very intimate roof-top screening. 
Here's what we had to say about it.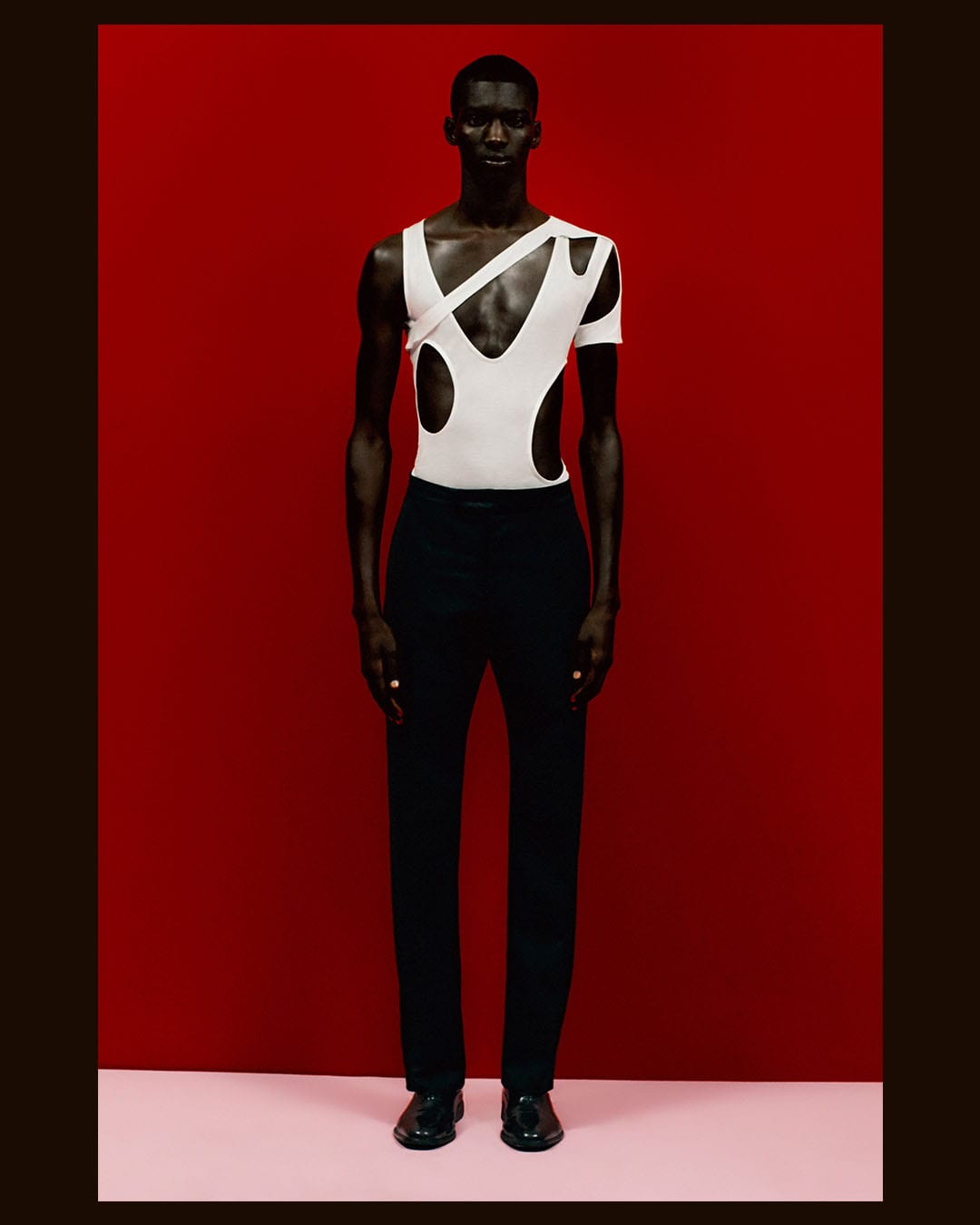 Maximilian Davis debuted with Fashion East last Monday with his collection 'J'ouvert'and what an opening it was. The timing felt right and his work is a true example of how fashion can connect with reality. His creative voice needs to be heard and the collection is one to be remembered not only for being remarkably beautiful and elegant but also its political stance and the fact that there was so much humanity in it. This was a collection with a firm opinion and more so, one that brought black voices to the center of the conversation in the world of tailoring.
It is clear that Maximilian sees black and brown skinned bodies in a way that they weren't in classical art. He sees them as canvases. Beautiful bases on which to create a fantasy and in doing this, he clearly states that beauty and elegance aren't White and Western monopolies. Beauty is for all and in all.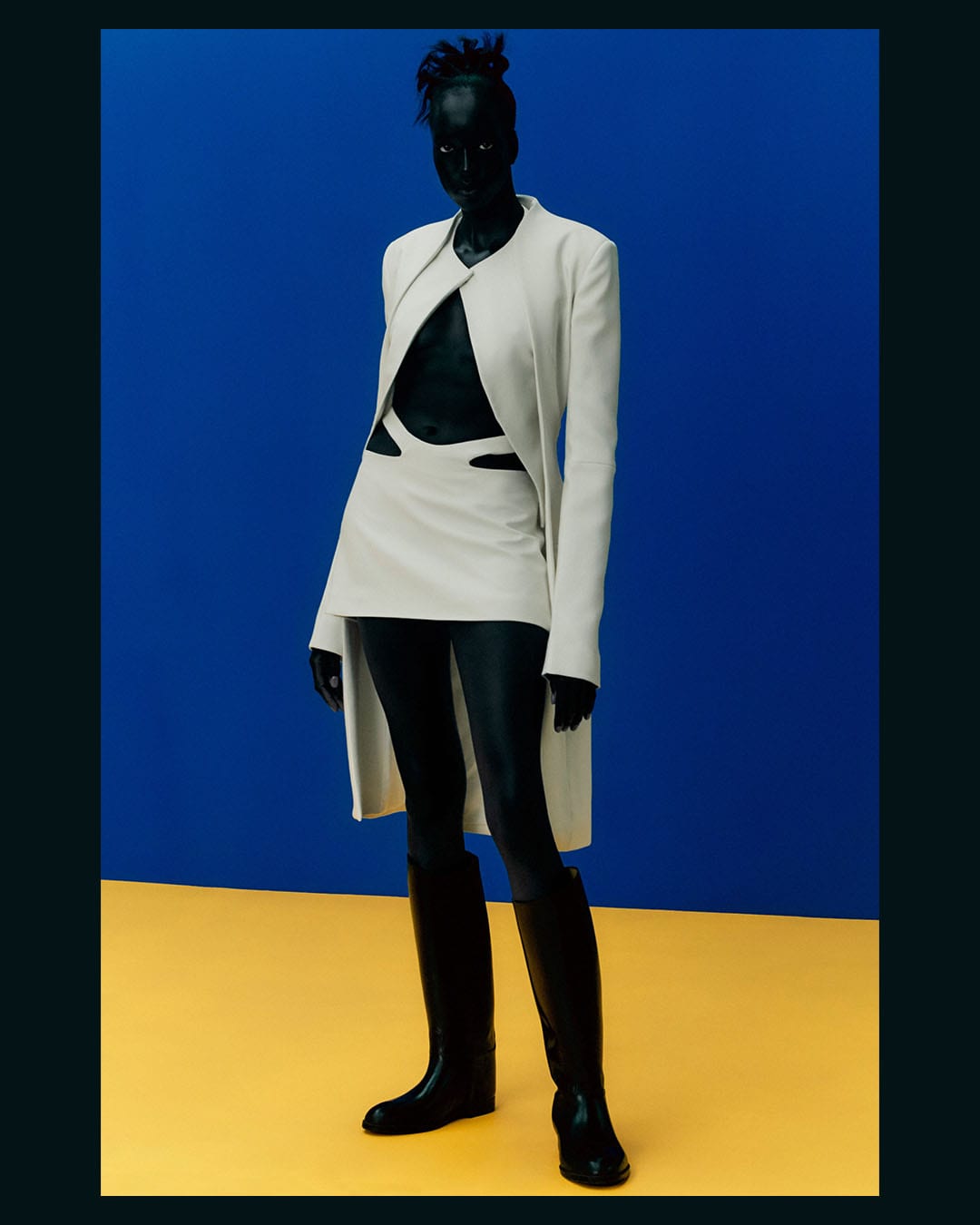 This is a Spring/Summer collection so of course there is more body on show. However, the way the body is on show is different: skin is at the core of 'J'ouvert' and that only adds to its fashion proposal. Using a very clean colour palette Maximilian created an atmosphere of modern carnival tailoring. Aristocrat cravats, tail coats with an avant-garde twist, mesh, V neckline deep cleavages, muscle and bone-like strip constructions, harlequin prints and tuxedos, combined with a Rothko/Sean Paul's "I'm still in love with you" video clip background, make the whole collection look like a real-life Jacob Lawrence painting.
Davis came through with this collection after working from home during lockdown, from home. Combining his talents with a team that made up of industry heavyweights such as the stylist Ibrahim Kamara, photographer Rafael Pavarotti and film director Akinola Davies Jr, with music by Suutoo, it would be silly to say this doesn't make the collection even more admirable and valuable. An impeccable marriage between the beauty we're all craving and the political awareness we all need being narrated by a family that have found themselves either through university or the vivacious London night scene. 
Goom Heo, in her second Fashion East collection, strikes us with a sense of fantasy and contemplative optimism. The eleven looks, shot by Trinity Ellis, capture a light that feels like it's coming from the end of a tunnel, subtly illuminating her Spring-Summer looks that are all about dynamism and fluidity. 
"What's the difference between menswear and womenswear today anyway?" – this is the question that arises as soon as we see the Korean designer's work. Her menswear collection comprises bare torsos, cropped and fitted tops with wrapped roll-necks, uber square-toed and kitten-heeled mary janes, flares, oversized dresses/capes and silk chiffon that flows all the way down to the ground. All of these elements come together to create a romantic setting of self-love, nostalgia and sensuality.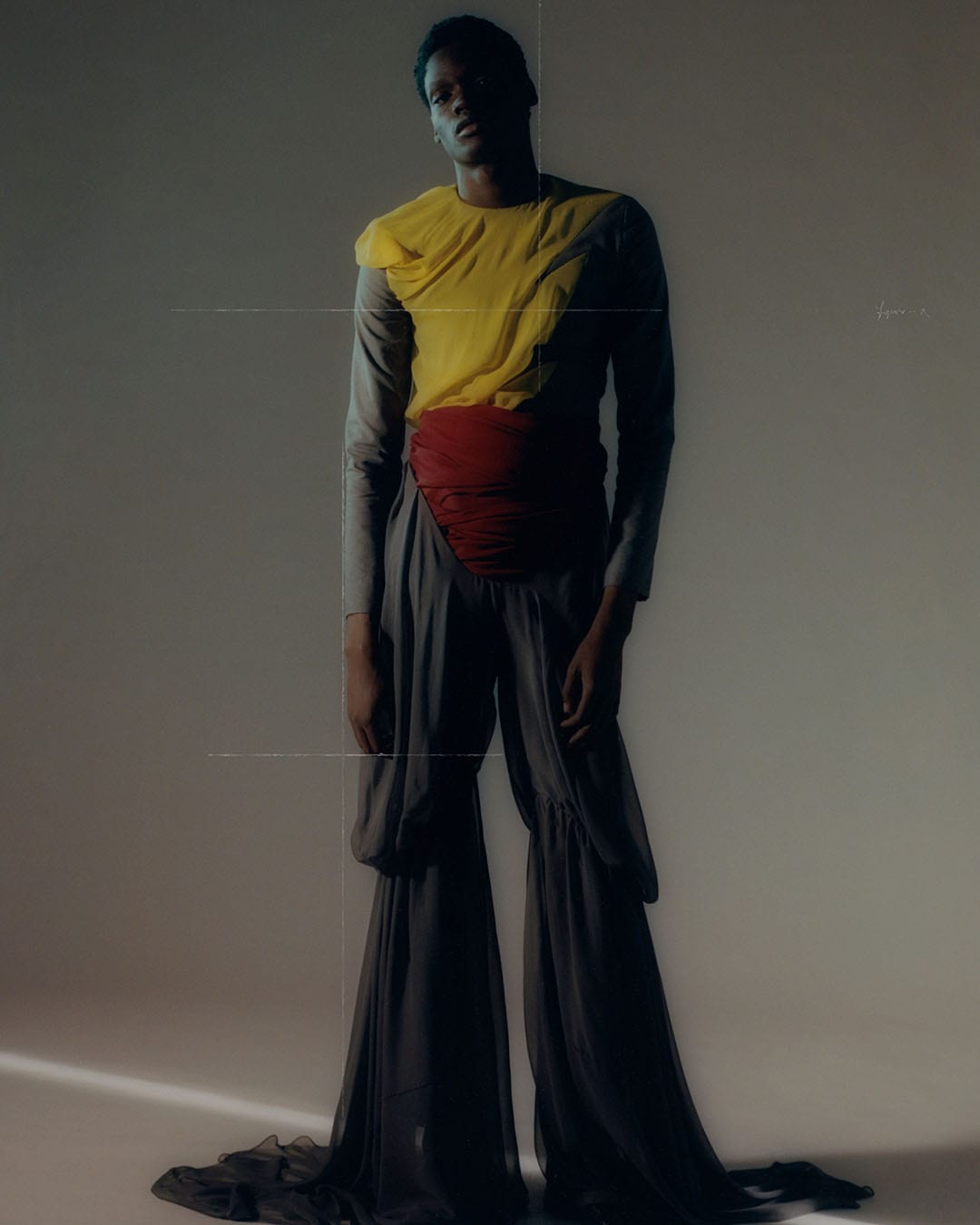 'Voyeur' is a journey into the science and enchantment of drape, colour, texture, emotion and gender-fluidity. Goom Heo presents us with looks that once again disobey the strict and irrational rules of the gender binary, dressing her models in tiny velvet skirts, long fringes and an admirable attention to detail. The slanted red eyes in her grey rolled-neck top are pouring long red fringe tears which reflect, in just the right measure, the confusing times we're living in.
The collection was also presented in a short film that showed a different side of the proposal. Goom Heo asked Zhuo Chen to curate a visual that would translate the delicate balance of masculine and feminine energy in their clothing, which was fully accomplished by a film that played with angles and perspectives. "As we were not doing a runway show, I wanted to show the movements of garments through film," says Goom. After this fully energetic and slightly hectic audiovisual show, the photos acted like a mirroring of an "after the storm" scenario, calmer but still in subtle movement, liberating the energy that's left.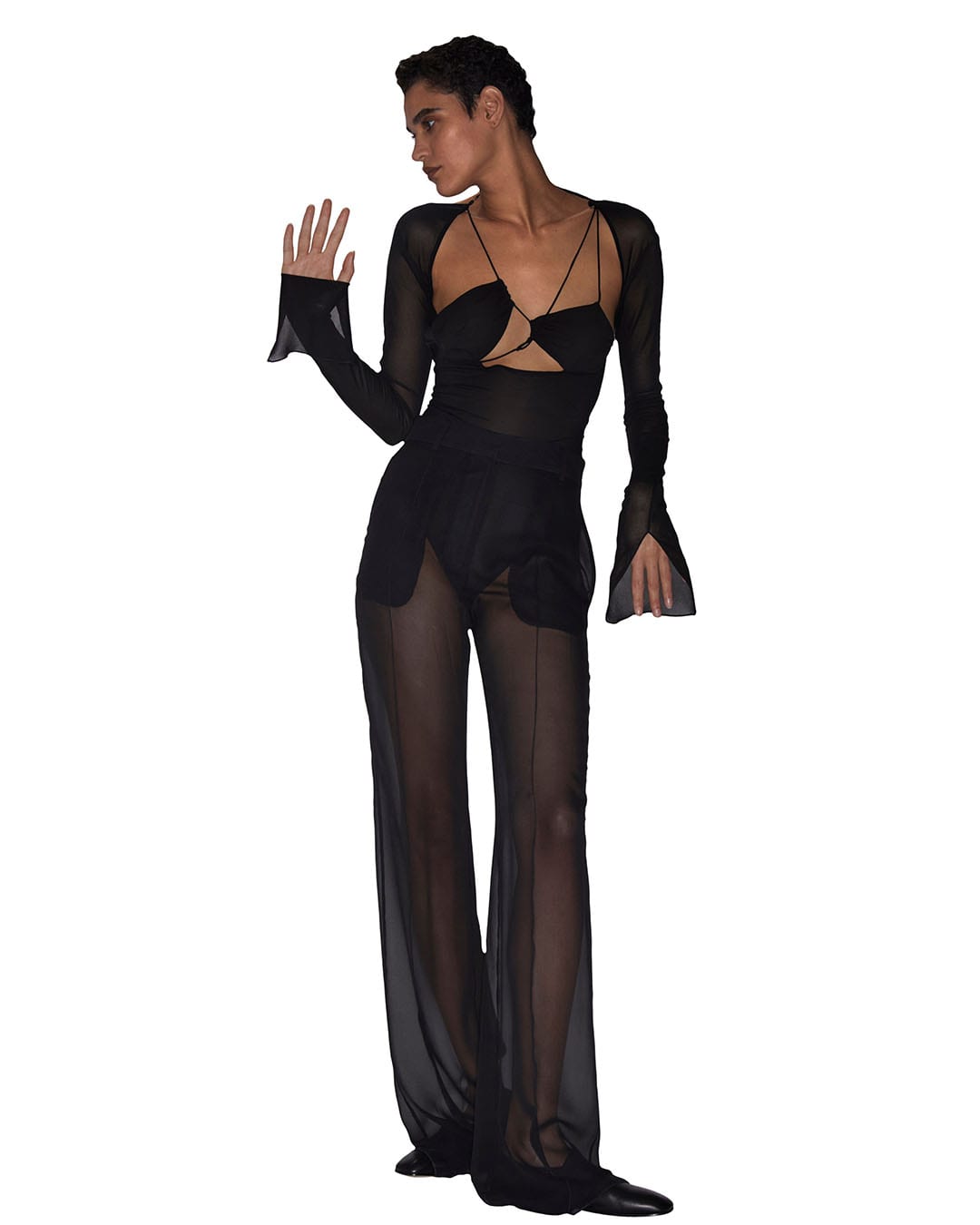 Nensi Dojaka's creations are the type of garments that seem to be stitched together in the most precise and unpredictable spots, as they have the delicate nature of a spider's web and the toughness of the black widow spider that built it. 
Its fragility only reaffirms the strength of Dojaka's collection. Putting together sheer tulle and organza layers, rouleau thin straps and silk georgette, jersey and chiffon, the young Albanian designer created a black, grey and brown goth ballet concept.
This season she has pushed things even further than last one. With constructions that although asymmetrical, look like they're mathematically calculated and perfectly balanced. Each garment looks like a piece of an eclectic engineering  puzzle. Her knowledge of lingerie is evident, as she spent three years studying it at London College of Fashion, before she graduated from her M.A. at Central Saint Martins. She knows exactly how to display the beauty of bare skin and showcase the elegance of covering precisely chosen parts of the body.
Lockdown seems to have given Dojaka the time to think through every single detail. The collection's short film, shot in collaboration with the photographer Harley Weir and stylist Francesca Burns, presents a spring 2021 season that reaches high levels of sophistication and empowerment.
Just like Héloïse in Portrait of a Lady of Fire and Jane Chapman in Big Little Lies, many of us can relate to the feeling of wanting to run towards a cliff without actually jumping off it. Dream we can fly and float in the air for a few seconds to contemplate the ocean and the sky blending together. Especially after being in lockdown for so long. That feeling is exactly what Saul Nash captured in his SS21 short film presentation.
Every piece in Nash's collection brings forth the freedom that comes with taking a break from a big city like London and liberating the body. Every piece is versatile and looks as though it can adapt to whatever is expected of it. Loose-fitted jackets that can become capes, sweatshirts with hidden zippers and panels to make them expand, track tops with hanging cords. Everything is breathable, comfortable and the opposite of repressive.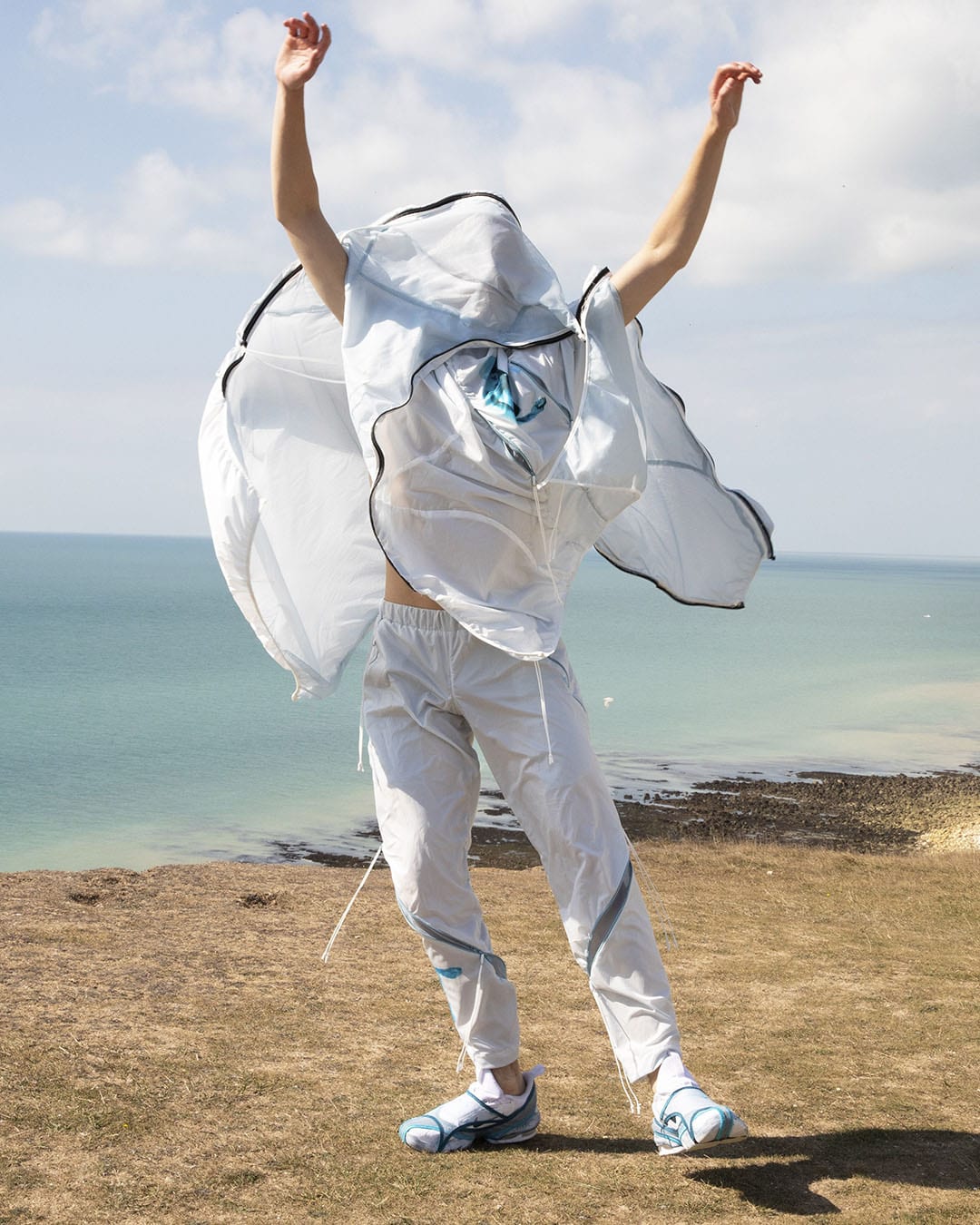 The young designer, on this occasion, presented a dance performance that evokes a very pure sensation of catharsis.  His short film showcases the virtues of sportswear, of clothes designed to not restrict the body in any way but rather embrace it to liberate what's inside of it. Some pieces are even meant to be ripped apart, and others are one with the wind. "We danced toward liberation, as a group", he declares. His group of Sufi dancers wear Nash's clothes to create a beautiful fashion choreography. 
"Flipside", as he named the collection, illustrates how vital it is for us to get in touch with our physical selves. But it also clearly defies traditional masculinity. Men dance, men feel, men are allowed to express themselves. This season is all about exploring masculine vulnerability and sensitivity, about men coming together to reach catharsis.